CAMEL TRIVIA & FACTS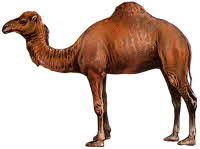 Camels include 2 species of large ruminant related to the llama and the vicuna. The Dromedary or Arabian camel has one hump and stands about 6 ft tall at the shoulders. The Bactrian camel has two humps, with shorter legs but a heavier torso.
In 2011 more than one million wild camels were roaming Australia's interior.

One camel produces approximately 45 kilograms of methane gas annually.
Camel was considered an unclean meat in the Bible, but was highly regarded in Ancient Rome, where grilled camel's feet was a gourmet dish. Both Aristotle and Aristophanes mention it. Young camel is eaten in some North African and Middle Eastern countries, and in Mongolia. During the siege of Paris in 1870, it was listed on the Voison restaurant's Christmas Eve menu.
(See also: 1871 Siege of Paris Menu)
A well treated and well fed camel can produce 10 gallons of milk a day, which is as much as Holstein cows produce.
Camel's milk is about 5.5% milkfat, 7.5% milk solids and 87% water.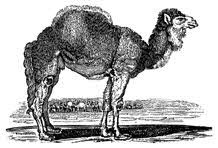 "The flesh of the camel is dry and hard, but not unpalatable. Heliogabalus (3rd c Roman Emperor) had camels' flesh and camels' feet served up at his banquets. In Barbary, the tongues are salted and smoked for exportation to Italy and other countries, and they form a very good dish. The flesh is little exteemed by the Tartars, but they use the hump cut into slices, which, dissolved in tea, serves the purpose of butter."
Peter Lund Simmonds, 'The Curiosities of Food' (1859)

Camels, Australia and Minneapolis:
What's the connection? (January, 2003)
In the 19th century, camels were brought over to Australia from northern India to help explore and settle the back country. Eventually about 20,000 camels were released into the wild when they were no longer needed. Today, there is a population of over 500,000 wild camels in Australia. (They are all the one humped variety).

Ranchers are now capturing and raising them for meat, just like cattle - well, almost - cattle don't spit! They are shiped to Indonesia, Brunei, Malaysia, and even Saudi Arabia. Some as draft animals and some as food. (Wholesale price is about $3.50 per pound). Camel tastes like beef, but is a lot tougher.

Jump to Minneapolis, Minnesota, which contains the U.S. largest population of immigrants from Somolia, and significant numbers of Ethiopians and Saudi Arabians. All of these folks love their camel. So now Australia is exporting camel meat to Minneapolis!

FREE Magazines
and other Publications
An extensive selection of free magazines and other publications
FOOD TRIVIA and FOOD FACTS
Please feel free to link to any pages of FoodReference.com from your website.
For permission to use any of this content please E-mail: [email protected]
All contents are copyright © 1990 - 2023 James T. Ehler and www.FoodReference.com unless otherwise noted.
All rights reserved. You may copy and use portions of this website for non-commercial, personal use only.
Any other use of these materials without prior written authorization is not very nice and violates the copyright.
Please take the time to request permission.
CULINARY SCHOOLS
& COOKING CLASSES
From Amateur & Basic Cooking Classes to Professional Chef Training & Degrees
FoodReference.com (since 1999)
FOOD TRIVIA and FOOD FACTS SECTION