FoodReference.com
(Since 1999)


Home | FOOD_ARTICLES | Food_Trivia | Today_in_Food_History | Food_History_Timeline | Recipes | Cooking_Tips | Food_Videos | Food_Quotes | Who's_Who | Culinary_Schools_&_Tours | Food_Trivia_Quizzes | Food_Poems | Free_Magazines | Food_Festivals_and_Events
Food Articles, News & Features Section
You are Here: Articles > Food History 'A' to 'C' .....
Bill of Fare During the Siege of Paris
SEE ALSO: FOOD HISTORY TIMELINE & TODAY IN FOOD HISTORY
The Franco-German War (1870-71), brought about the fall of the Second Empire and the siege of Paris. This is a Menu from a dinner given in Paris during the 1871 Siege.
Click Here for the English Translation.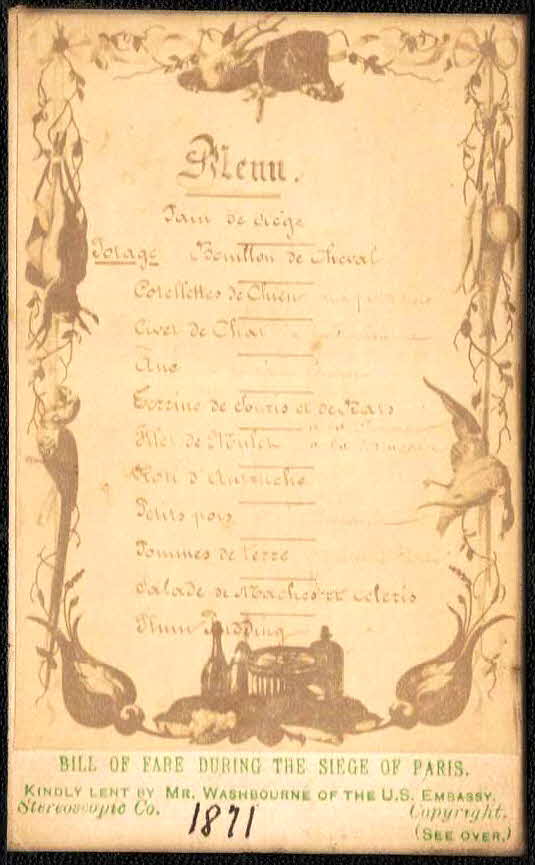 Note from Chef James, publisher of FoodReference.com
My thanks to George of Providence, Rhode Island for sending this copy to me. Here is a copy of his email:
October 2, 2006
Dear James, This document is in my possession. The original measures 3'' x 4.5'' held in between glass, and was given to me by Mrs. Grace Fraser here in Providence RI. she was a dear friend and passed away many years ago. I have always been fascinated by this rare artifact and thought how lucky we are to live and eat in this land of plenty, and ponder what the people of France had to deal with during this horrible time in history.
Be my guest and publish it on your site...I think it is very important for people to see and to think about. George

RELATED ARTICLES:
Home | About_Us_&_Contact_Us | Chef_James_Bio | Website_Bibliography | Food_Links

Please feel free to link to any pages of FoodReference.com from your website.
For permission to use any of this content please E-mail: [email protected]
All contents are copyright © 1990 - 2018 James T. Ehler and www.FoodReference.com unless otherwise noted.
All rights reserved. You may copy and use portions of this website for non-commercial, personal use only.
Any other use of these materials without prior written authorization is not very nice and violates the copyright.
Please take the time to request permission.