FEATURED FOR MAY
• Updated: Over 9,000 Food Festivals
• Updated: Recipe Contests
• BBQ & Grilling Articles & Recipes
• Summer Food Ideas & Recipes
• Cinco de Mayo Articles with Recipes
** ** ** ** ** ** ** ** **
· Lemon Trivia and Facts
· Raisin Trivia and History
** ** ** ** ** ** ** ** **
** ** ** ** ** ** ** ** **
SPRING RECIPES
· Red Cabbage with Green Apples
· Amish Onion Pie Recipe
· Minted Sugar Peas
· Rich Spinach Gratin Recipe
· Spinach Pies
· Broccoli & Green Beans with Ginger
· Orange Scented Broccoli Recipe
· Rhubarb Meringue Pie Recipe
· Pineapple & Mango Pie Recipe
· Strawberry Pie Recipe
** ** ** ** ** ** ** ** **
SPRING FOOD ARTICLES

(Most with recipes)
· Broccoli History& Uses
· Leafy Greens Articles
· Mushroom History & Folklore
· Rhubarb Description & Uses
· Apricot History & Description
· Melon Varieties and Uses
· History of Strawberries
** ** ** ** ** ** ** ** **
** ** ** ** ** ** ** ** **

May Food Months:
For Details, History and more DAY, WEEK and MONTH Food Holiday designations for MAY, including LINKS to Holiday Origins and Additional Information, please Click for
DETAILED MAY FOOD CALENDAR
MAY is:
• Celiac Disease Awareness Month
· Gluten Intolerance Article
• Int'l Mediterranean Diet Month
• Int'l Respect for Chickens Month
• National Artisan Gelato Month
• National Barbecue Month
· Barbecue & Grilling Articles
• National Chocolate Custard Month
• National Egg Month
· Egg Trivia & Facts
• National Hamburger Month
· Hamburger Trivia & Facts
· 100 Hamburger Variations
• National Salad Month
· Salad Recipes · Dressing Recipes
• National Salsa Month
· Salsa Trivia · Salsa Recipes
• National Strawberry Month
· Strawberry Trivia
• National Vinegar Month
· Vinegar History & Manufacture
· Vinegar Kitchen Tips
• Tavern Month
• UK: National Asparagus Month
· Asparagus, The Herald of Spring
· Asparagus Facts & Trivia
· Asparagus Recipes
• UK: National Restaurant Month ?
** ** ** ** ** ** ** ** **
DID YOU KNOW?
The name ''tamarind' comes from an Arab expression meaning 'date of India.' Tamarind is a slow growing evergreen and is thought to have originated in tropical Africa, but has been grown in India for so long that many believe it to be native there also. It is now widely grown in Latin American. The fruit is pleasantly acidic, and is used similar to lemon or lime juice in Southeast Asian and Indian cooking, and in Latin America the pulp is also a popular ingredient in thirst quenching beverages.

** ** ** ** ** ** ** ** **
Sunday, May 1, 2016
Daily Trivia Questions are below
TODAY'S FOOD QUOTE
"It is probable that the lemon is the most valuable of all fruit for preserving health."
Maud Grieve, 'A Modern Herbal' (1931)

Food Holidays - Today is:
• Lemonade Day (May 1, 2016) To empower today's youth to become tomorrow's entrepreneurs through helping them start, own and operate their very own business…a lemonade stand (lemonadeday.org/)
• May Day (an ancient spring festival day)
• Mother Goose Day (Mother Goose Society)
• National Chocolate Parfait Day
• National Raisin Week (May 1-7, 2016)
• Stewardship Week: April 24 - May 1, 2016
[National Association of Conservation Districts] To encourage conserving natural resources for our future
TODAY IN FOOD HISTORY
On this day in:
1683 Supposedly, a patent for a system of extracting salt from sea water was granted in England. (Salt Trivia and Facts)

1759 Josiah Wedgwood founded the Wedgwood Pottery that transformed the rough pottery of the time into the smooth, durable crockery we know today.

1792 Rufus Porter was born (died Aug 13, 1884). American editor and inventor. On August 28, 1845 he put out the first issue of Scientific American, but sold the magazine after 10 months. He held over 100 patents, including a fire alarm, signal telegraph, fog whistle, and a washing machine.

1841 The first wagon train left Independence, Missouri for California. (History of the Chuck Wagon)
1851 London's Great Exhibition opened in Hyde Park. It was the first international exhibition ever to be held. The Exhibition was housed in the Crystal Palace.

1859 John Walker died (born May 29, 1781). English chemist who invented the friction match (strike anywhere) in 1826.

1864 Anna Jarvis was born (died Nov 24, 1948). Successfully campaigned from 1908 to 1914 to have Mother's Day recognized as national holiday.

1886 Angelo Del Monte and 'Papa' Marianetti opened Ristorante Fior d' Italia, America's oldest Italian restaurant in the heart of San Francisco's North Beach. The restaurant is now located at 2237 Mason Street in San Francisco. (website: www.fior.com)
1893 The World's Columbian Exposition (Chicago World's Fair) opened in Chicago, Illinois. It was held to celebrate the 400th anniversary of Columbus' arrival in the New World in 1492 (the Fair was dedicated on October 21, 1892 but did not open to the public until May 1, 1893).

1899 In Germany, Bayer introduced aspirin in powder form. (see also Feb 27, 1900)

1924 The first Iodized table salt in the U.S. went on sale in at grocers in Michigan. Adequate intake of iodine helps prevent goiter (swelling of the thyroid gland). (Salt History)

1927 Imperial Airways became the first British airline to serve hot meals.

1931 Empire State Building opens. It was built on the site of the original Waldorf-Astoria Hotel.
(see also Oct 1, 1931)
1941 General Mills introduced 'Cheerioats.' The name was changed to 'Cheerios' in 1945. [Some sources list June 19, 1941] (Breakfast Cereal Trivia)

1971 'Brown Sugar' by the Rolling Stones is released

1982 A record setting 8,000 foot long banana split was created in Selinsgrove, Pennsylvania.
(See also April 30, 1988)

1991 Charles Elton died. Elton was an English biologist who first developed the idea of a 'food chain.'

2001 Hindus in Seattle filled suit against McDonald's restaurant chain for not disclosing the use of beef flavoring in its French Fries.

2005 A 9 foot, 640 pound freshwater catfish was caught by fishermen in northern Thailand on the Mekong River. According to many, this is the largest freshwater fish ever caught. (Catfish Trivia & Facts)

UPCOMING FEATURED FOOD FESTIVALS
· April 27-May 1 80th National Trout Festival - Kalkaska, MI
· April 29-May 1 Chicken Fried Steak Festival - Lamesa, Texas
· April 30-May 1 Discover the Food Festival - Tampa, Florida
· May 1 New England VegFest - Worcester, Massachusetts
· May 1, 2016 33rd Annual Taste of Collier - Naples, Florida
· May 1-7 5th Annual NY Burger Week - New York, New York
(SEE ALL FOOD FESTIVALS and OTHER FOOD EVENTS)

FOOD TRIVIA QUIZ

(new DAILY questions)
1) Can you match the cities with their titles?
a) Gilroy, California
b) Le Mars, Iowa
c) St. George, South Carolina
d) Collinsville, Illinois
e) Morton, Illinois

A) Grits Capital of the World
B) Pumpkin Capital of the World
C) Garlic Capital of the World
D) Ice Cream Capital of the World
E) Horseradish Capital of the World

2) What was the first toy advertised on TV and when?
Click here for the answers to these Food Trivia Questions

Read an article about Chef James and the FoodReference.com website published in the Winona Daily News, Minneapolis StarTribune, and numerous other newspapers: Click here for the Article
** ** ** ** ** ** ** ** ** ** ** ** ** ** **
POPULAR PAGES

Dedication
This website is dedicated to:
· Gladys Ehler, my mother, who taught me patience and how to make Sauerbraten (it is still my favorite)
· Edward Ehler, my father, who taught me a love of books and history.
· Cpl. Thomas E. Saba, my nephew. Died in action on Feb. 7, 2007 in Iraq. He was 30 yrs. young.
Chef James
DID YOU KNOW?
Lemons are believed to have originated in Southeast Asia, and spread to Spain and North Africa during the Middle Ages. The cultivated variety is thought to be a hybrid of wild species of lime and citron.
** ** ** ** ** **
** ** ** ** ** **
A FOOD LIFE
"There are those who say that a life devoted to food -- cooking it, eating it, writing about it, even dreaming about it -- is a frivolous life, an indulgent life. I would disagree. If we do not care what we eat, we do not care for ourselves, and if we do not care for ourselves, how can we care for others?"
Fictional cookery writer Hilary Small, in episode 6, series 2 of 'Pie In the Sky'

** ** ** ** ** **
Click Here for
Food Emergency
Websites, Phone #s,
E-mails, etc.

** ** ** ** ** **
CULINARY SHOWCASE
FOOD POSTERS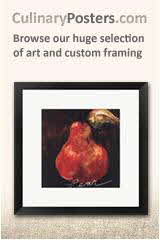 Classic Fish and Seafood Recipes

** ** ** ** ** **
IN SEASON FOR SPRING
· Cabbage Trivia
· Cabbage Recipes
· Green Bean Trivia
· Fresh Bean Recipes
· Mushroom Trivia
· Mushroom Recipes
· Onion Trivia
· Onion Recipes
· Peas Trivia
· Pea Recipes
· Spinach Trivia
· Spinach Recipes
· Broccoli Trivia
· Broccoli Recipes
· Pineapple Trivia
** ** ** ** ** **

DID YOU KNOW?
The Meyer Lemon (Citrus meyeri) is thought to be a cross between a lemon and an orange. They are thought to have originated in China about 400 years ago. The Meyer Lemon was introduced to the U.S. from China by Frank Meyer in 1908. Meyer lemons look like a large orange, with a very soft edible skin. They are sweet, juicy and fragrant, and are excellent in vinaigrettes and sauces, or sliced skin and all in salads. Meyer Lemons were mainly grown as ornamentals, but they are appearing more frequently in food markets. (Season: November through March).

** ** ** ** ** **