See also: Palms
CABBAGE PALM TRIVIA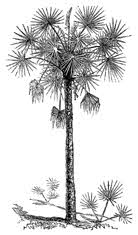 Also known as Cabbage palm and Swamp cabbage, the Cabbage Palmetto (Sabal palmetto) is native to the Southeastern U.S. and the Caribbean. Hearts of palm are obtained from the plant - the tender hearts of the terminal bud or young leaf shoots. Harvesting kills the tree. Hearts of palm have many layers (similar to leeks), and are a pale ivory color, with a very mild nutty flavor. They are used mostly in salads.

The single trunk may grow to a height of 60 feet, but average size is usually smaller. The cabbage palm has fan shapes leaves up to 5 feet long. The tiny flowers are white, and the fruits are black and pea-sized.

The state tree of South Carolina is the Cabbage palmetto, and is also on the state flag.

The cabbage palm is also the state tree of Florida and is featured on the Great Seal of Florida.

CULINARY SCHOOLS
& COOKING CLASSES
From Amateur & Basic Cooking Classes to Professional Chef Training & Degrees - Associates, Bachelors & Masters - More than 1,000 schools & classes listed for all 50 States, Online and Worldwide
FOOD TRIVIA and FOOD FACTS
Please feel free to link to any pages of FoodReference.com from your website.
For permission to use any of this content please E-mail: [email protected]
All contents are copyright © 1990 - 2023 James T. Ehler and www.FoodReference.com unless otherwise noted.
All rights reserved. You may copy and use portions of this website for non-commercial, personal use only.
Any other use of these materials without prior written authorization is not very nice and violates the copyright.
Please take the time to request permission.
FoodReference.com (since 1999)
FOOD TRIVIA and FOOD FACTS SECTION