See Also: Article on Cabbage; Cabbage Kitchen Tips;
Cabbage Quotes
CABBAGE FOOD TRIVIA & FACTS

According to the USDA, U.S. cabbage production in 2005 was 2.4 Billion pounds.

California led the U.S. in cabbage production in 2005 with 466 million pounds, New York was second with 456 million pounds.

Americans consume about 387 million pounds of sauerkraut annually.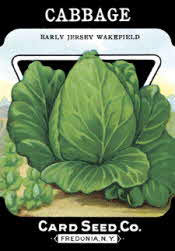 Cabbage Varieties:
· Green cabbage, the most common variety.
· Red cabbage takes longer to cook than green cabbage.
· Savoy cabbage, a loose leaved variety with light green, crinkly leaves. Also called curly cabbage.
· Napa or Chinese cabbage looks like a cross between celery and lettuce. Delicate flavor, excellent in stir fries.
· Bok choy, light green to pearly white, it resembles Swiss chard.
Those with thyroid problems should avoid eating large amounts of cabbage or cauliflower. They both interfere with the body's absorption of iodine, needed by the thyroid gland.

There are 303 people in the U.S. listed on whitepages.com with the last name 'Cabbage'
(Mark Morton, 'Gastronomica', Fall 2010)
The Lord's Prayer is 66 words, the Gettysburg Address is 286 words, there are 1,322 words in the Declaration of Independence, but government regulations on the sale of cabbage total 26,911 words.

The Greek poet, Homer (who live around 850 BC), mentions Achilles washing cabbages, in his epic poem the 'Iliad.'
Cato the Censor (234-149 BC) mentions several medicinal uses for cabbage, including treating infected wounds.

The world record for eating cabbage is held by Charles Hardy. He ate 6 pounds 9 ounces in 9 minutes.
See also: Food Eating Contests