CANDLE TREE TRIVIA:
Panama Candle Tree, Candle Stick Tree
Click Photo for larger image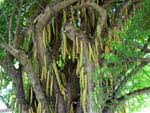 The Panama candle tree,
Parmentiera cereifera
, is a relative of the Calabash tree. The trees produce thousands of 12 to 30 inch long, waxy skinned, green-yellow fruits resembling tapered candles.
The Candle Tree is a relative of the sausage tree, and is native to Central America. The fruits, and its edible seeds are popular in some areas of Mexico. It is also grown as an ornamental for its flowers and unusual appearance when the fruits are ripening.
Photo © Chef James, taken at Fruit & Spice Park, Homestead, FL