ASIAN CHICKEN AND VEGETABLES IN GINGERED BROTH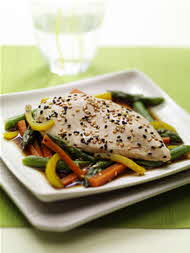 You'd never guess this Asian-inspired dish of succulent chicken and colorful vegetables in a ginger-spiked broth is baked in aluminum foil packets in the oven.
Prep Time: 15 minutes
Cook Time: 20 minutes
Makes 4 servings.
Ingredients
• 3 tablespoons honey
• 3 tablespoons reduced sodium soy sauce
• 2 tablespoons orange juice
• 2 teaspoons McCormick® Ground Ginger
• 2 cups asparagus pieces (2-inch pieces)
• 1 cup julienne-cut carrots
• 1 cup thinly sliced yellow bell pepper
• 4 sheets (12x18-inch each) heavy duty aluminum foil
• 4 small boneless skinless chicken breast halves (about 1 pound)
• 1 tablespoon McCormick® Sesame Seed, toasted

Directions
MIX honey, soy sauce, orange juice and ginger in small bowl. Place vegetables in large bowl. Add 1/2 of the honey mixture; toss to coat well.

PLACE 1 cup of the vegetable mixture on each sheet of foil. Top each with 1 chicken breast half. Spoon 1 tablespoon of the remaining honey mixture over each chicken breast half. Sprinkle with sesame seed. Bring up foil sides; double fold top and ends to tightly seal packet. Place foil packets on large baking sheet.

BAKE in preheated 425°F oven 15 to 20 minutes or until chicken is cooked through and vegetables are tender. Place each packet in shallow soup bowl. Carefully cut a slit in the top of each packet. Slide chicken and vegetables into the bowl.
To Toast Sesame Seed: Heat small skillet on medium heat. Add sesame seed; cook and stir 2 minutes or until golden brown and fragrant. Immediately pour out of hot pan to avoid over-toasting.

Nutrition Information Per One Serving:
244 Calories, Fat 4g, Protein 30g, Carbohydrates 22g, Cholesterol 73mg, Sodium 545mg, Fiber 3g

Recipe courtesy of McCormick® - Spices & Seasonings - www.mccormick.com/