WISCONSIN GERMAN BUTTERBALL POTATO & CARMELIZED ONION TARTS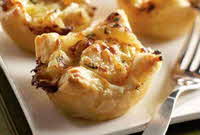 "There's not anything subtle or small about Mr. B's—we've fashioned ourselves after those classic New York City and Chicago-style steakhouses—and potatoes are part of that experience. This dish shows that, and when I first tasted the Wisconsin German Butterballs, I knew they were made for this dish. Boy, was I right!"
Executive Chef/General Manager Brent Perszyk, Mr. B's—A Bartolotta Steakhouse, Brookeld, WI
YIELD: 8 individual tarts

INGREDIENTS:
Filling:
• 6 Wisconsin German Butterball or Yukon Gold potatoes, medium size
• 6 Tbsp. Butter, divided
• Salt and pepper to taste
• 1 large Vidalia onion, sliced
• 1 tsp. thyme
• 3 Tbsp. brandy
• ½ cup heavy cream
• 2 cups grated aged white cheddar cheese, divided

Pastry:
• 1 sheet thawed pu pastry, cut into 8,
• 3-inch squares

PROCEDURE:
Filling:
1. Bake potatoes until almost done (about 1 hour); cool potatoes. Peel potatoes and cut lengthwise, slice very thin.

2. In large, non-stick skillet, heat 3 Tbsp. of the butter. Sauté potatoes in single layer until golden-brown. Season with salt and pepper; set aside.

3. In same skillet, heat remaining 3 Tbsp. Butter, sauté onion until caramelized, add thyme and mix well

4. Deglaze pan with brandy, add cream and reduce. Add potatoes and toss lightly, being careful not to break the slices, sprinkle with 1 ½ cups cheese.

Tarts:
1. Place each pastry square in a non-stick mun tin; crimp edges.

2. Fill each pastry equally with potato lling; top with remaining grated cheese.

3. Bake for 10 to 15 minutes or until golden brown. Serve immediately.

Wisconsin Potato & Vegetable Growers Association
www.wisconsinpotatoes.com