JALAPENOS, GRILLED PEPPER POPPERS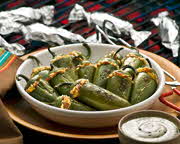 Expert's Note: When I cook outdoors, I determine which size grill to use based on the quantity of food I am preparing. I have been a charcoal griller all my life; it is the only way to get that right temperature and flavor that make your foods "pop." For a less spicy appetizer, swap out the jalapenos for 6-8 small Poblano peppers and cool them off with Hidden Valley Ranch® dip.
Makes: 6 servings
Prep time: 30 minutes
Cook time: 10-12 minutes
Ingredients:
• 1 pound Bacon
• 8 oz. cream cheese, room temperature
• 6 oz. aged provolone cheese, shredded (1½ cups)
• 1 tablespoon garlic powder
• 2 teaspoons cumin
• 1 teaspoon black pepper
• 18-20 large jalapenos
(Note: for a less-spicy substitute, try 6-8 small poblano peppers instead)

Dipping Sauce
• 1 packet (1 ounce) Hidden Valley The Original Ranch Dips Mix
• 16 ounces sour cream

Directions
Mix dipping sauce ingredients together in a medium-sized bowl and refrigerate.

Fry bacon, drain, and let cool. Crumble bacon into cream cheese and add all additional ingredients. Mix together well. Place cream cheese mixture inside a quart size GLAD food storage bag. Cut off one of the corners to make a pastry bag.

Cut off the top of the peppers approximately 1/4 of an inch from the base of the stem and set tops aside. Stuff cream cheese mixture in top of peppers and replace caps. Wrap each pepper tightly in foil.

Place wrapped peppers on the grill grate directly over a hot bed of Kingsford charcoal and turn frequently for 10-12 minutes. Remove from the grill, let cool, unwrap and serve with Hidden Valley Ranch dipping sauce to cool down the spice from the peppers.

Recipe created by grilling enthusiast, Alan Clifton of Dayton, Ohio, on behalf of Kingsford® charcoal