PIG SKINS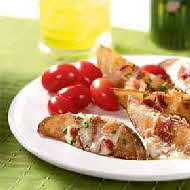 Makes about 32 wedges
Ingredients
• 4 medium russet baking potatoes (about 1½ pounds total)
• 1½ tablespoons olive oil
• Salt to taste
• 4 ounces Cabot Sharp or Extra Sharp Cheddar Cheese*, grated (about 1 1/3 cups)
• 6 strips cooked bacon, crumbled
• 1 cup Cabot Sour Cream
• 1/4 cup chopped fresh chives or scallions

Directions
1. Place rack in lower third of oven; preheat over to 450 F.

2. Cut potatoes in half lengthwise, then cut each half into about 4 lengthwise wedges. Transfer to baking sheet with sides. Drizzle with oil, then toss until potatoes are evenly coated. Arrange cut-side-down in single layer and sprinkle with salt.

3. Roast for 15 to 20 minutes, turning over midway with spatula, or until potatoes are well browned on both sides.

4. Remove from oven and sprinkle with cheese. When cheese is melted, sprinkle with bacon. In small bowl, stir together sour cream and chives or scallions and serve with potatoes for dipping.
Nutrition Analysis
Calories 50 , Total Fat 4g , Saturated Fat 2g , Sodium 100mg , Carbohydrates 2g , Dietary Fiber <1g , Protein 3g , Calcium 40mg

Recipe & photo courtesy of Cabot Creamery Cooperative www.cabotcheese.com