VIETNAMESE PORK ROLLS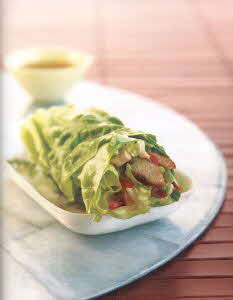 The South Beach Diet Quick & Easy Cookbook
by Arthur Agatston, MD
These rolls are special, yet not hard to make. A simply dressed green salad with cucumber or radish would be a perfect accompaniment. Cut them on the diagonal or cut the lettuce leaves into thirds and roll up smaller, hors d'oeuvre-size pieces.

Makes 4 servings
Prep Time: 15 minutes
Cook Time: 20 minutes (includes assembling rolls)
INGREDIENTS
Dressing:
1 tablespoon Asian fish sauce
1 tablespoon fresh lime juice
2 teaspoons minced fresh ginger
1 garlic clove, minced
Pinch red pepper flakes

Pork:
1 tablespoon canola oil
1 pound pork cutlets
1 (½-lb) head napa cabbage, shredded (3 cups)
1 small red bell pepper, cut into thin strips
8 large Boston lettuce leaves
Salt and freshly ground black pepper

DIRECTIONS
For the dressing: Whisk together fish sauce, lime juice, ginger, garlic, and red pepper flakes in a small bowl.

For the pork: Heat oil in a large skillet over medium heat. Season pork with salt and pepper and sauté until lightly browned, 3 minutes per side. Remove from heat and slice into thin strips. Toss with 1 tablespoon of the dressing.

Combine cabbage, bell pepper, and remaining dressing in a large bowl. Lay lettuce leaves on a clean, dry work surface. Divide pork among leaves. Top with cabbage mixture and roll tightly, tucking edges in as you go. Place rolls, seam side down, on a cutting board, cut in half, and serve.

Nutrition at a Glance
Per serving: 220 calories, 10 g fat, 2.5 g saturated fat, 26 g protein, 6 g carbohydrate, 2 g dietary fiber, 490 mg sodium