SAUSAGE & APRICOT BALSAMIC RICE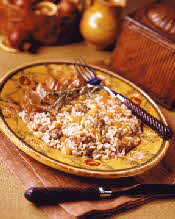 "Rice to the Rescue!" Recipe Contest Winner - Tricia Brown
Yield: Makes 8 servings.

Ingredients
• 1 (12-ounce) package sage-flavored pork sausage
• 1/3 cup maple syrup
• 6 tablespoons balsamic vinegar
• 3 cups cooked long grain rice
• 3/4 cup chopped dried apricots
• 1 cup coarsely chopped roasted, salted cashew nuts
• 1/4 teaspoon salt
• 1/4 teaspoon ground black pepper

Directions
Crumble sausage into a large non-stick skillet.

Stirring periodically, cook over medium heat until browned, about 10 to 15 minutes.

Drain grease from pan.

Add maple syrup and vinegar; stir and cook 2 to 3 minutes to blend.

Add rice, apricots, cashews, salt and pepper; stir over medium heat until blended.

Serve warm.


USA Rice Federation (www.usarice.com)