PARSNIPS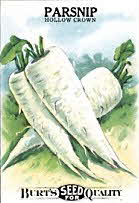 QUESTION
I grew some parsnips in my garden this year and some were nice and smooth like carrots....others had wart-like extensions all the way down. Can you tell me why some were different? Soil conditions? ???
Please reply, Andy
ANSWER
Those are probably secondary 'rootlets' on your parsnips. You see similar 'rootlets' occasionally on carrots, although not very often.

The specific seed variety, weather and soil conditions all effect their growth and appearance. But mainly, this is just something that is normal with parsnips.

Keep in mind that carrots are much more popular, and have been for many years. That means that much more time and money has been spent on selective 'breeding' for specific traits, such as consistent color, shape and size. Carrots were not always nice and smooth and orange.

(Red, black yellow, white, purple - these were the colors that carrots started out with. Everything but orange. Carrots were first cultivated in Afghanistan in the 7th century, and they started with yellow flesh and a purple exterior. It was the Dutch who developed the orange carrot, and the French in the 17th who most likely developed the elongated carrot, ancestor of the ones we eat today.)

Because parsnips are not a very popular vegetable, not much money, time or research has been devoted to developing more consistent varieties.

I am always happy to answer questions, but you should be aware that you can get the best advice about any gardening or agricultural problems specific to your area, from your local College/University Agricultural Extension Service*.
They have the specific knowledge of your local area soil and weather, and are most familiar with any problems with specific plants. They are very helpful, and will be glad to answer any questions.

Here is a link where you can locate you nearest Cooperative Extension office. (Usually at least one in every county)
https://nifa.usda.gov/land-grant-colleges-and-universities-partner-website-directory
*(Every state has at least one Land Grant College or University - Schools that were granted federally controlled land specifically to fund agricultural schools. Part of their mission is to provide advice and service to state residents.
They are also members of the USDA Cooperative Extension System. Each U.S. state and territory has a state office at its land-grant university and a network of local or regional offices. These offices are staffed by one or more experts who provide useful, practical, and research-based information to agricultural producers, small business owners, youth, consumers, and others in rural areas and communities of all sizes.)
Chef James, FoodReference.com
Parsnips should be stored at 33 degrees and will keep for several months.

Parsnips are generally available year round, but they are primarily a late winter vegetable. The flavor becomes sweeter and more desirable after long exposure to temperatures below 40 degrees F.