SUMMER HARVEST STEAK SALAD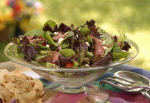 A fabulous recipe created by The Texas Beef Council's own Culinary Director, Chef Tiffany Collins!
Prep Time: 15 minutes
Cook Time: 15 minutes
Servings: Serves 4

Ingredients:
~ 1 lb. beef top sirloin steak, cut 1 inch thick
~ 2 tsp. coarse ground black pepper
~ 1 tsp. coarse salt
~ 1 bag (10 oz.) field greens
~ 1/2 cup fresh blueberries
~ 1/2 cup crumbled feta cheese
~ 1/4 cup sunflower kernels
~ 1/2 cup grape tomatoes
~ 1/4 cup bacon, cooked and crumbled
~ 2 Tbsp. white wine vinegar
~ 1 tsp. Dijon mustard
~ 1/3 cup olive oil
~ 1 small clove garlic, crushed
~ salt and pepper to taste

Instructions:
Rub both sides of beef with salt and pepper.

Grill over medium ash-covered coals 14-15 minutes for medium-rare to medium doneness.

Meanwhile, place field greens in large bowl. Sprinkle in blueberries, feta cheese, sunflower kernels, tomatoes and crumbled bacon.

Toss carefully.

Prepare dressing by whisking together white wine vinegar, mustard, garlic, salt and pepper, until combined. Drizzle in olive oil while whisking until oil is absorbed.

Carve steak against the grain into 1/4 inch thick slices.

Place steak slices on top of salad greens; drizzle with dressing and serve.

Suggestions:
Steak may be broiled in oven on rack of broiler pan with surface of beef 3-4 inches from heat.

Broil 16 to 21 minutes for medium-rare to medium doneness.
Recipe courtesy of Texas Beef Council