PACIFIC RIM BEEF SALAD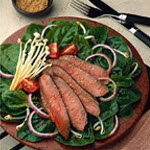 This beef salad always gets rave reviews
Prep Time: 2-4 hours
Cook Time: 15-20 minutes
Servings: Serves 6

Ingredients:
~ 2 lbs. beef top sirloin steak, cut 1½ inches thick
~ 3/4 cup reduced-sodium soy sauce
~ 1/2 cup sugar
~ 1 Tbsp. finely grated fresh ginger
~ 2 large cloves garlic, minced
~ 1 lb. fresh spinach, stems removed and leaves torn into bite-size pieces
~ 4 ounces fresh bean sprouts
~ 6 center-cut thin red onion slices, separated into individual rings
~ 1/4 cup catsup
~ 1/4 cup rice wine vinegar
~ 2 Tbsp. vegetable oil
~ 1/8 tsp. hot pepper sauce
~ 2 Tbsp. sugar
~ 2 tsp. dark sesame oil
~ 1 Tbsp. toasted sesame seed
~ Fresh enoki mushrooms or button mushrooms
~ Cherry tomatoes

Instructions:
Trim excess fat from steak.

To make marinade, combine soy sauce, 1/2-cup sugar, ginger and garlic. Stir until sugar is dissolved.

Reserve 2 Tbsp. marinade mixture. Place steak and remaining marinade in plastic bag. Close bag securely, turn to coat, and marinate in refrigerator 2-4 hours, turning occasionally.

Remove steak from marinade. Pat dry with paper towels. Discard marinade.

Heat large heavy frying pan over medium-high heat until hot.

Add steak and sear 4-6 minutes, turning once.

Reduce heat to medium and continue cooking 10-12 minutes or until steak is rare to medium-rare or to desired doneness, turning once.

Let steak stand 10 minutes before carving into thin slices.

Meanwhile combine spinach, bean sprouts and onion in large bowl.

Combine catsup, vinegar, vegetable oil, pepper sauce, remaining 2 Tbsp. sugar and reserved 2 Tbsp. marinade in a small saucepan.

Bring dressing to a boil over medium heat, stirring constantly. Remove from heat and stir in sesame oil.

Pour hot dressing over spinach mixture and toss.

Place spinach mixture on platter. Arrange beef on top of salad. Sprinkle with sesame seeds.

Garnish with mushrooms and cherry tomatoes.

Tips:
Steak can also be grilled 13-16 minutes over medium coals or broiled.

Already toasted sesame seeds can be purchased in the oriental section of some grocery stores.

To toast sesame seeds: heat small frying pan over medium-high heat, add sesame seeds and stir until they start to brown. Remove from pan immediately.

Recipe courtesy of Texas Beef Council