STEAK & POTATO SALAD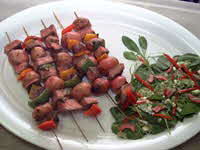 Grilled potatoes make this a salad for real men
Servings: Serves 8
Prep Time: 10 minutes
Cook Time: 20 minutes

Ingredients:
~ 2 lbs. boneless beef top sirloin steak, cut 1-inch thick
~ 1/2 tsp. lemon pepper
~ 2 lbs. fresh spinach or leaf lettuce, washed
~ 2 lbs. small red or white potatoes
~ 2 red or green bell peppers, cut into 2-inch squares
~ 1/4 cup olive oil, divided
~ 2 tsp. Dijon-style mustard
~ 2 Tbsp. white wine vinegar
~ 1/2 tsp. salt
~ 1/4 tsp. freshly ground black pepper
~ 3 green onions, minced
~ fresh parsley, finely chopped

Instructions:
Prepare medium-hot coals in grill.

Wash and dry potatoes. Cut any that are larger than 2-inches in diameter in half.

In a medium bowl, toss the potatoes and bell pepper with 2 Tbsp. of the olive oil.

Thread on skewers or place directly on the grill 4-6 inches above the coals.

Cook, turning and moving occasionally until potatoes are lightly browned and just tender when pierced with a fork, about 15-20 minutes.

Season steak with the lemon pepper.

Grill with potatoes 15-18 minutes for medium-rare (140°F) to medium (160°F), turning once.

Allow steak to rest for 5 minutes before carving into slices or 1-inch cubes.

Meanwhile, in a small bowl combine mustard, vinegar, salt and pepper. Whisk in remaining olive oil until well blended.

Toss warm potatoes, peppers, minced green onions and torn salad greens in dressing. Arrange sliced steak over dressed salad.

Sprinkle with chopped parsley and serve.
Suggestions:
If using wooden skewers, soak in water for 30 minutes before using to avoid burning. You may want to precook the potatoes in the microwave before grilling. Pierce the potatoes and microwave on high for 4-5 minutes.

Recipe courtesy of Texas Beef Council