MARIA'S TIRAMISU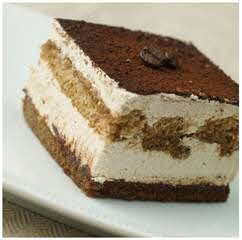 INGREDIENTS·
· 4 large eggs, separated, at room temperature
· 1/2 cup sugar
· 2, 8.8-ounce containers mascarpone, at room temperature
· 1 cup strong, hot brewed coffee
· 3 tablespoons rum
· About 40 ladyfingers
· 2 tablespoons unsweetened cocoa powder
· Espresso beans for garnish

DIRECTIONS
• Preheat oven to 425°F.

• Beat egg yolks and ¼ cup sugar in electric mixer on high speed until thick and pale yellow, (about 3 minutes).

• Mash mascarpone in large bowl with rubber spatula until smooth

• Fold mascarpone mixture in yolk mixture.

• Whip egg whites with clean beaters until stiffness peaks form.

• Fold egg whites mixture into mascarpone mixture.

• Mix together coffee, rum and remaining ¼ cup sugar to dissolve; let cool.

• Trim half of ladyfingers to line bottom of 9 x 13 inch serving dish.

• One at a time, briefly dip ladyfingers into coffee mixture and arrange in dish.

• Press firmly with fingers to make even layer.

• Spread with half of mascarpone mixture.

• Repeat with remaining ladyfingers and coffee mixture, but do not press ladyfingers.

• Spread with remaining mascarpone mixture.

• Cover and refrigerate at least 3 hours.

• Sift cocoa powder over top and serve.

* Recipe courtesy of Maria Zoitas, creator of 'Maria's Homemade' line of prepared food sold exclusively at Westside Market NYC www.wmarketnyc.com/