See also: Pizza History Article; Deep Dish Pizza History;

Domino's Pizza Trivia; Tombstone Pizza Trivia
PIZZA TRIVIA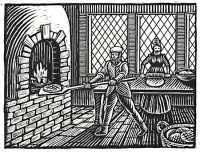 In 1889, an Italian tavern owner named Don Raffaele Esposito developed a pizza featuring tomatoes, mozzarella cheese and basil – ingredients bearing the colors of the Italian flag. He named it the Margherita Pizza, after the Queen of Italy, Margherita Teresa Giovanni. Thus, modern-day tomato-and-cheese pizza was born.

About 3 billion pizzas are sold each year in the U.S.

According to Domino's, some of the more popular international toppings are pickled ginger, minced mutton and tofu in India, squid (octopus) and Mayou Jaga (mayonnaise, potato and bacon) in Japan, and green peas in Brazil. In Russia, they serve pizza covered with mockba, which is a combination of sardines, tuna, mackerel, salmon and onions. In France, a popular combo is called the Flambee, with bacon, onion and fresh cream.

Gennaro Lombardi's an Italian restaurant on Spring Street in New York City, served America's first pizza in 1905 (or 1895).

There are more than 75,000 pizza restaurants in the U.S. serving about 3 billion pizzas a year. (2007)
Americans eat approximately 100 acres of pizza each day, or 350 slices per second. That is an average of 46 slices (23 pounds) per year for every man, woman and child in America.

93% of Americans eat at least one pizza per month.

The number one day for U.S. pizza consumption is Super Bowl Sunday, and second is the Wednesday before Thanksgiving.

Pepperoni is the favorite topping in the U.S. - it is on 36% of all pizza orders.
According to an American Dairy Association random sampling survey, pizza is America's fourth most craved food, behind cheese, chocolate and ice cream.

The first Pizza Hut restaurant was in Wichita, Kansas in 1958.

Pizza is a baked pie of Italian origin consisting of a shallow breadlike crust covered with seasoned tomato sauce, cheese and often other toppings, such as a variety of meats and vegetables. Pizza makers have tried virtually every kind of topping on pizza including peanut butter & jelly.
Around the world, toppings vary greatly to reflect regional preferences. In Japan, for instance, eel and squid are favorites; in Pakistan, curry is a big seller; in Russia, red herring is a topping of choice; Australians enjoy shrimp and pineapple on their pizzas; Costa Ricans favor coconut, but here in the United States, pepperoni is the favorite pizza topping.
Wheat Foods Council www.wheatfoods.org
Want a large pizza? Order 'The Big One' at Mama Lena's Pizza House in McKees Rocks, Pennsylvania (suburban Pittsburgh). For $99.99 you get a 3 foot x 4 foot pizza made with 20 pounds of dough, 1 gallon of pizza sauce and 15 pounds of cheese.