PLUOTS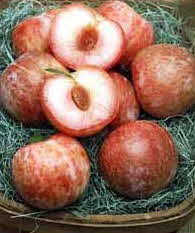 Pluots are complex hybrid fruits that are part plum and part apricot in heritage. Pluots have a majority of plum parentage and therefore, have smooth skin like plums.

These fruits were originally invented in the late 20th century by Floyd Zaiger and are now grown in parts of Washington and California. Some varieties of pluots are sometimes called interspecific plums, or dinosaur eggs.

Pluots and Apriums (another plum and apricot hybrid) are known for their sweetness and flavor; the sugar content of these fruits is much higher than that of a plum or apricot alone.

FOOD TRIVIA and FOOD FACTS
Please feel free to link to any pages of FoodReference.com from your website.
For permission to use any of this content please E-mail: [email protected]
All contents are copyright © 1990 - 2023 James T. Ehler and www.FoodReference.com unless otherwise noted.
All rights reserved. You may copy and use portions of this website for non-commercial, personal use only.
Any other use of these materials without prior written authorization is not very nice and violates the copyright.
Please take the time to request permission.


FoodReference.com (since 1999)
FOOD TRIVIA and FOOD FACTS SECTION