See also: Article on Pineapples
Pineapple upside Down Cake Story; Recipe
PINEAPPLES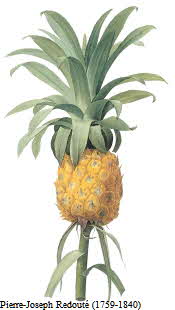 Bromelain in pineapples prevents gelatin from setting. Canned pineapple however, can be added to Jell-O because the canning process destroys the bromelain.

Pineapples take about 18 months to grow and can weigh up to 20 pounds.

Pineapples most likely originated in Brazil, but there are no known native or wild pineapples known today. They are probably a cultivated species that developed under conditions of artificial selection.

Christopher Columbus brought pineapples back to Spain from the Caribbean Island of Guadalupe in 1493. The Spanish introduced pineapples to Hawaii.

More than one-third of the world's commercial supply of pineapples comes from Hawaii.