CHICKPEA AND TOMATO CURRY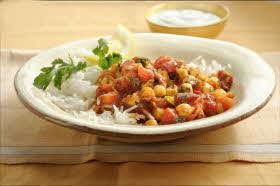 Break out of the usual appetizer mold for the next party and create a bright Chickpea and Tomato Curry. Chickpeas simmered with onion, garlic, gingerroot and Fire Roasted Tomatoes in curry powder, lemon juice and cilantro make a great meatless alternative for the holidays. Serve with rice or Indian flatbread. Guests can top with plain yogurt or additional cilantro as they desire.
Prep Time: 30 Minutes
Start to Finish: 30 Minutes
6 servings (1 cup each)

Ingredients
• 1 tablespoon olive or vegetable oil
• 1 medium onion, chopped (1/2 cup)
• 3 cloves garlic, finely chopped
• 1 tablespoon finely chopped gingerroot
• 1 tablespoon curry powder
• 2 cans (15 oz each) chick peas, drained, rinsed
• 2 cans (14.5 oz each) Muir Glen® Organic Fire Roasted diced tomatoes, undrained
• 1/2 cup finely chopped fresh cilantro*
• 1 tablespoon fresh lemon juice
• 1/2 teaspoon coarse (kosher or sea) salt
• Hot cooked rice, if desired
• Plain yogurt, if desired

Directions
1. In 3-quart saucepan, heat oil over medium heat. Add onion, garlic, gingerroot and curry powder; cook about 2 minutes, stirring frequently, until onion is tender.

2. Stir in chick peas and tomatoes. Heat to boiling. Reduce heat; simmer uncovered 15 minutes, stirring occasionally. Stir in cilantro, lemon juice and salt.

3. Serve over rice. Top each serving with yogurt.
*For the best flavor, look for cilantro that is very green, fresh looking and aromatic.
Serve-With: Serve with Indian flatbread.

Nutrition - 1 Serving:
Calories 270 (Calories from Fat 50); Total Fat 6g (Saturated Fat 0.5g, Trans Fat 0g); Cholesterol 0mg; Sodium 380mg; Total Carbohydrate 42g (Dietary Fiber 10g, Sugars 5g); Protein 12g
% Daily Value: Vitamin A 6%; Vitamin C 15%; Calcium 10%; Iron 30%
Exchanges: 2 Starch, 1/2 Other Carbohydrate, 1 Vegetable, 1/2 Very Lean Meat, 1 Fat
Carbohydrate Choices: 3

Recipe courtesy of Muir Glen. Muir Glen is a Registered Trademark of Small Planet Foods, Inc.