HASS AVOCADO PARMESAN POTATO BOWLS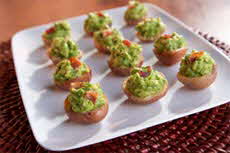 Prep time: 30 minutes
Cooking time: 40 minutes
Total time: 1 hour 10 min
Serves: 8

Ingredients
• 4 bacon slices
• 1 lb. very small red potatoes (about 1½-inches in diameter)
• 2 Tbsp. garlic-infused olive oil
• ¼ cup grated Parmesan cheese
• Salt and pepper, to taste
• 2 ripe, fresh Hass avocados, halved, seeded and scooped out
• 2 Tbsp. fresh lemon juice
• 2 tsp. coarse ground garlic salt
• 2 tsp. red pepper sauce

Instructions
Cook bacon until crisp, crumble and set aside.

Place potatoes in large saucepan, adding enough water to just cover potatoes. Bring to a boil, reduce heat and simmer for 18-20 minutes, until just tender when pierced with a knife. Remove from heat, drain water and allow potatoes to cool.

Cut each potato in half lengthwise. Scoop out potato meat leaving a 1/4-inch layer around all the edges and bottom. Brush each potato bowl with oil. Sprinkle with crumbled bacon, Parmesan cheese, salt and pepper. Place on baking pan and cook in oven at 400ºF for 10-12 minutes or until lightly browned.

In a small bowl, coarsely mash avocados and combine with lemon juice, garlic salt and red pepper sauce.

To serve: Place about 1 tablespoon of the avocado mixture into each potato bowl. Top with additional bacon if desired.

Recipe courtesy of the Hass Avocado Board
www.avocadocentral.com