ASPARAGUS CROSTINI WITH PARMESAN CRISPS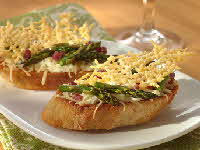 Makes 48 crostini
Ingredients:
• 1/3 cup plus 1 Tbsp. olive oil, divided
• 1 long baguette, about 2 feet long, cut into 48 1/2-inch thick slices
• 3/4 lb. asparagus (about 12 stalks), ends trimmed
• 1/4 tsp. kosher salt
• 1/2 tsp. freshly ground black pepper
• 1¼ cups (5 oz.) Sargento Artisan Blends Shredded Parmesan Cheese
• 1 cup Sargento Whole Milk Ricotta Cheese
• 1/4 cup coarsely chopped fresh basil, divided
• 1/3 lb. pancetta, cut into 1/4-inch dice

Directions:
1. Preheat the oven to 375°F.

2. To make the crostini: Brush both sides of each slice of bread with 1/3 cup oil. Toast until lightly browned, 5 to 7 minutes. Let cool. (The crostini can be made up to 2 days ahead. Keep in an airtight container.)

3. To make the asparagus: Place asparagus stalks on a baking sheet and drizzle with remaining 1 tablespoon oil. Sprinkle with salt and pepper. Roast until the asparagus is just beginning to turn brown and crisp-tender, about 5 minutes. Let sit until cool enough to handle. Cut the asparagus crosswise into 1/4-inch slices. Set aside.

4. In a small bowl, mix together Ricotta, 1/2 cup Parmesan and 2 tablespoons basil. Set aside. (This can be made 1 day ahead. Cover and refrigerate.)

5. To make Parmesan crisps: Line a baking sheet with parchment paper. Place a heaping teaspoonful of Parmesan on the baking sheet. Smooth into a rectangle about the length of each crostini. Repeat with remaining Parmesan, spacing about 1/2-inch apart. Cook for 6 to 8 minutes or until golden brown. Let cool. (Parmesan crisps can be made 1 day ahead and stored in an airtight container.)

6. In a medium sauté pan, place the pancetta over medium heat. Cook until pancetta is crisp and brown around the edges, about 6 minutes. Remove to a paper towel-lined plate to drain. Let cool.

7. To assemble the crostini: Spread about 1 teaspoon of Ricotta-Parmesan mixture on each crostini. Lightly press 5 or 6 slices of asparagus and 3 or 4 pieces of pancetta into the cheese mixture. Bake 7 to 9 minutes, or until the cheese is heated through and the edges of the asparagus are a shade darker. Remove from the oven and let cool 5 minutes. Place a Parmesan crisp on top of each crostini, sprinkle with remaining basil and serve.

Tip: Several of the components of these crostini can be made ahead of time, making them perfect for entertaining.

About Sargento Artisan Blends
Sargento Artisan Blends features a delicious mingling of high quality Sargento cheese with flavorful, handcrafted artisan cheese. The artisan cheeses hail from artisans all selected in recognition of their own passion and commitment to the highest flavor standards. Six shredded varieties include Parmesan, Parmesan & Romano, Whole Milk Mozzarella, Whole Milk Mozzarella & Provolone, Double Cheddar, and Swiss Blend.
www.sargento.com