BACON STUFFED PORTOBELLO MUSHROOMS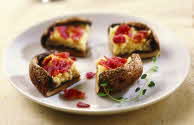 Ingredients:
• 8 slices HORMEL® Fully Cooked Bacon, finely chopped
• 1 cup freshly grated Parmesan or Romano cheese
• 4 Portobello mushrooms, 3 to 4 inches in diameter

Directions:
Preheat oven to 375ºF.

Mix bacon and cheese together and set aside.

Quickly rinse mushrooms under cold running water (do not soak) and dry with paper towels.

Remove and discard stems, using a teaspoon, remove the black, fibrous underside of the mushroom caps and discard. Place mushrooms, cap side down, on a lightly greased baking pan and divide filling among them.

Bake until mushrooms are tender and filling is hot (about 12 to 15 minutes).
Serve With:
Roasted chicken, broiled fish filets or fettuccini alfredo.
Mushrooms can also be quartered and served as an appetizer.