JAZZY JAMBALAYA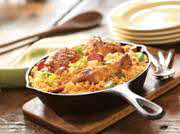 Prep Time: 15 min.
Cook Time: about 40 min.
Makes 8 servings

Ingredients
• 2 tbsp. vegetable oil
• 4 lbs. chicken parts, skinned
• 1 lb. smoked sausage, cut into 1/2 inch slices
• 1 cup each chopped onion, bell pepper and celery
• 1 tbsp. minced garlic
• 1 1/2 cups uncooked regular rice
• 3 cups chicken broth
• 1/4 cup FRANK'S REDHOT Original Cayenne Pepper Sauce

Directions
1. HEAT oil in 5-quart pot or deep heavy skillet. Cook chicken and sausage in batches, about 20 min. until well browned. Drain fat. Return meat to pot.

2. STIR remaining ingredients into pot. Heat to boiling. Reduce heat to medium- low.

3. SIMMER, covered, 20 min. until rice is tender and chicken is no longer pink near bone.

SLOW COOKER METHOD:
Brown chicken and sausage as in Step 1.
Transfer meat to 6 qt. slow cooker.
Stir in remaining ingredients.
Cover and cook on HIGH setting for 3 hours, or on LOW setting for 6 hours.

Recipe courtesy of Frank's Redhot Cayenne Pepper Sauce