JAMBALAYA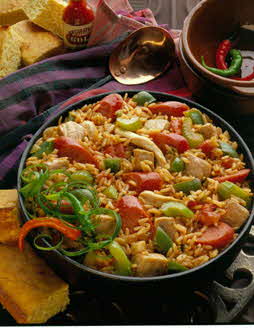 Serves 10
Ingredients
• 4 ounces smoked ham, diced
• 1 smoked sausage, 12-16 ounces, sliced 1/2-inch thick
• 1 pound boneless pork loin, cubed
• 2 tablespoons vegetable oil
• 1½ cups chopped onion
• 1 cup chopped celery
• 1 large green bell pepper, chopped
• 2 garlic cloves, minced
• 1/2 teaspoon hot pepper sauce
• 2 bay leaves
• 1½ teaspoons salt
• 1½ teaspoons dried oregano
• 1 teaspoon ground white pepper
• 1/2 teaspoon ground black pepper
• 1 teaspoon thyme
• 1 14½-ounce can diced tomatoes
• 1 8-ounce can tomato sauce
• 1 14½-ounce can chicken broth
• 1/2 cup chopped green onion
• 2 cups rice, uncooked

Cooking Directions
Heat oven to 350 degrees F.

In a large Dutch oven, or large heavy skillet with lid, heat oil over medium heat.

Stir in ham, sausage and pork; sauté until lightly browned, stirring frequently, about 7-8 minutes.

Stir in onion, celery and pepper, sauté until crisp-tender, about 4 minutes.

Stir in garlic, hot pepper sauce, bay leaves, salt, oregano, white pepper, black pepper, and thyme; cook over medium heat, stirring constantly and scraping bottom of pan for 5 minutes.

Stir in tomatoes, tomato sauce and chicken broth; bring to a boil; stir in green onions and rice.

Cover and bake until rice is tender, about 20-25 minutes.

Remove bay leaves and serve.

Serving Suggestions
Some think of jambalaya as the Cajun national dish. Others just call it darned good and an easy way to feed a crowd. It does feature the Cajun "culinary trinity" of celery, onion and green pepper; it also features flavorful smoked pork products that help give it its character. This rice-based one-pot meal needs only bread as a "pusher." Bon appetit!

Nutrition Facts
Calories 390 calories; Protein 25 grams; Fat 18 grams; Sodium 1390 milligrams; Cholesterol 55 milligrams; Saturated Fat 6 grams; Carbohydrates 31 grams

Recipe and photo courtesy of National Pork Board.
For more information about The Other White Meat, visit TheOtherWhiteMeat.com