PEPPERED RACK OF PORK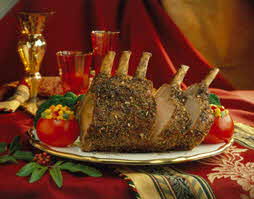 Serves 6
Ingredients
• 3-4 pound pork rib roast, with at least 6 ribs, chine bone cracked
• 1/4 cup pepper-blend seasoning

Cooking Directions
Heat oven to 375 degrees F.

Trim rib bones of roast of all extra meat (this is called "Frenching"; you can do it yourself or ask the butcher to do it for you).

Coat roast on all surfaces with pepper seasoning.

Place roast, bones up, in shallow roasting pan.

Roast for 1-1½ hours, until internal temperature (measured with a meat thermometer) reads 155 degrees F.

Remove roast from oven; let rest until temperature reaches 160 degrees F. - about 10 minutes.

Cut between rib bones to serve.

Serving Suggestions
This elegant roast is the perfect centerpiece for the holiday dinner.
Serve with broccoli spears with lemon butter, scalloped potatoes, baked tomatoes stuffed with corn and warm dinner rolls

Nutrition Facts
Calories 270 calories; Protein 34 grams; Fat 13 grams; Sodium 1000 milligrams; Cholesterol 85 milligrams; Saturated Fat 5 grams; Carbohydrates 2 grams; Fiber 0 grams

Recipe and photo courtesy of National Pork Board.
For more information about The Other White Meat, visit TheOtherWhiteMeat.com