GRILLED HONEY-SOY PORK STEAKS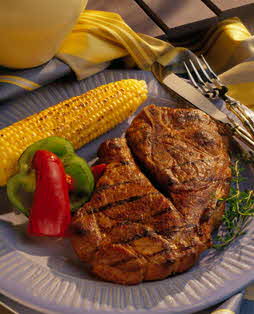 Serves 4
Ingredients
• 2 pork blade steaks, cut 1-inch thick
• 2 small cloves garlic, minced
• 2 tablespoons finely chopped onion
• 2 tablespoon lemon juice
• 2 tablespoon soy sauce
• 1 tablespoon honey

Cooking Directions
Combine all ingredients in a self-sealing plastic bag; seal bag and place in refrigerator 4-24 hours.

Remove steaks from marinade, discarding marinade.

Grill over medium-hot coals, 7 minutes per side, turning once.

Serving Suggestions
You'll love the simple marinade for these pork steaks. In fact, you probably have the ingredients on hand. You can substitute any type of pork chop for the blade steaks in this recipe to suit whatever you have on hand. Serve with grilled corn on the cob and fresh fruit kabobs.

Nutrition Facts
Calories 260 calories; Protein 17 grams; Fat 20 grams; Sodium 170 milligrams; Cholesterol 65 milligram; Saturated Fat 8 grams; Carbohydrates 2 grams; Fiber 0 grams
Recipe and photo courtesy of National Pork Board.
For more information about The Other White Meat, visit TheOtherWhiteMeat.com