SWEET & SMOKY PORK AND BEANS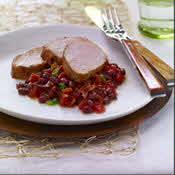 Pork and Beans is given a modern touch as caramelized honey-glazed pork tenderloin is served on a bed of adzuki beans and tomatoes.
Prep Time: 15 minutes
Cook Time: 40 minutes
Makes 6 servings

Ingredients
· 1/2 cup Billy Bee Honey
· 2 tablespoons Thai Kitchen Premium Fish Sauce
· 1 tablespoon fresh lime juice
· 2½ teaspoons McCormick Gourmet Collection Smoked Paprika, divided
· 1½ teaspoons McCormick Gourmet Collection Garlic Powder, divided
· 1/2 teaspoon McCormick Gourmet Collection Crushed Red Pepper
· 1 pork tenderloin (about 1¼ pounds)
· 2 slices bacon, diced
· 1 can (14½ ounces) petite diced tomatoes, undrained
· 1 tablespoon tomato paste
· 1/2 teaspoon McCormick Gourmet Collection Ground Ginger
· 1/2 teaspoon McCormick Gourmet Collection Sicilian Sea Salt
· 1/4 teaspoon McCormick Gourmet Collection Coarse Grind Black Pepper
· 1 can (15 ounces) adzuki beans, drained and rinsed
· 2 green onions, thinly sliced

Directions
1. Preheat oven to 350°F.
Mix honey, fish sauce, lime juice, 2 teaspoons of the smoked paprika, 1 teaspoon of the garlic powder and red pepper in small bowl until well blended. Brush pork with glaze.

2. Roast 20 to 30 minutes or until desired doneness, brushing with glaze halfway through cooking time. Let pork stand 5 minutes before slicing.

3. Meanwhile, cook bacon in large skillet on medium heat until crisp. Add tomatoes, tomato paste, remaining 1/2 teaspoon each smoked paprika and garlic powder, ginger, sea salt and pepper; cook 8 to 10 minutes or until slightly thickened, stirring occasionally. Gently stir in beans. Cook 2 to 3 minutes or until heated through. Slice pork on an angle into thin slices and serve over bean mixture. Garnish with green onions.

Test Kitchen Tip:
Adzuki beans are small, russet-colored beans with a sweet, nutty flavor. They are often used in Asian cuisine in confections. They can be purchased dried, canned or powdered in Asian markets or online specialty stores.

Nutritional Information Per Serving:
307 Calories, Fat 7g, Protein 25g, Carbohydrates 36g, Cholesterol 60mg, Sodium 647mg, Fiber 4g