PEACH-GLAZED PORK LOAF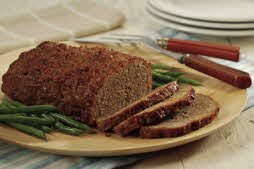 Serves 8.
Ingredients
• 1½ pounds ground ham
• 8 ounces ground pork
• 2 eggs
• 1/4 cup milk
• 1/2 cups fine dry bread crumbs
• 1 medium onion, finely chopped
• 1 teaspoon minced garlic (2 cloves)
• 3/4 dried thyme or marjoram
• 1/2 teaspoon dry mustard
• 1/8 teaspoon ground black pepper
• 1/2 cup peach preserves
• 1/2 teaspoon dry mustard

Cooking Directions
Heat oven to 350 degrees F. Grease a shallow baking pan; set aside.

Use a fork to beat together eggs and milk in a large bowl. Stir in bread crumbs. Add ground ham, ground pork, onion, garlic, thyme or marjoram, 1/2 teaspoon mustard, and pepper to milk mixture. Stir until well mixed, using your hands to mix as necessary.

Shape meat mixture into an 8x4-inch loaf; place in prepared baking pan.

Bake for 1 hour.

Meanwhile, cut up any large pieces of the peach preserves.

Stir together peach preserves and the remaining 1/2 teaspoon dry mustard in a small saucepan.

Heat and stir until preserves are melted.

Spoon preserve mixture over meat loaf.

Bake until internal temperature is 160 degrees F, about 10 minutes more.

Let stand for 10 minutes. Carefully slice and serve.
Serving Suggestions
Bring the family together with this flavorful pork loaf. Round out the meal with garlic mashed potatoes, green beans and crusty bread.
Nutrition Facts
Calories 282 calories; Protein 26 grams; Fat 10 grams; Sodium 1052 milligrams; Cholesterol 98 milligrams; Saturated Fat 3 grams; Carbohydrates 20 grams; Fiber 1 grams

Recipe and photo courtesy of National Pork Board.
For more information about The Other White Meat, visit TheOtherWhiteMeat.com