GRILLED YUCATACAN PORK STEAKS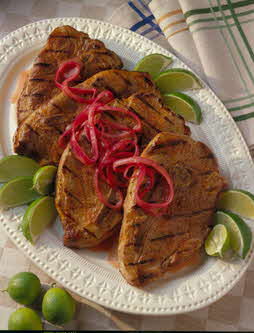 Serves 4.

Ingredients
• 4 boneless pork blade steaks, about 1/2-inch thick
• 1 large red onion, sliced
• 1 teaspoon salt
• 1/2 teaspoon cayenne
• 1 lime, cut into 8 wedges

Cooking Directions
Prepare medium-hot fire in grill.

Season pork steaks with salt and cayenne.

Place pork and onion slices directly over fire; grill pork for 8-10 minutes, turning once.

Grill onion, turning as necessary to brown evenly, for about 5-6 minutes.

Place grilled pork and onion on serving platter; squeeze some fresh lime juice over and serve with remaining lime wedges.
Wine suggestion: Serve with a chilled Sauvignon Blanc, cold beer or Sangria.
Serving Suggestions
This classic grilled pork dish from the Yucatan—Poc Chuc—is simplicity personified, but it's loaded with flavor. Accompany with guacamole, warm corn tortillas and a corn and black bean salad in vinaigrette.

Nutrition Facts
Calories 160 calories; Protein 16 grams; Fat 8 grams; Sodium 640 milligrams; Cholesterol 50 milligrams; Saturated Fat 3 grams; Carbohydrates 5 grams; Fiber 0 grams

Recipe and photo courtesy of National Pork Board.
For more information about The Other White Meat, visit TheOtherWhiteMeat.com