WALNUT CARROT CAKE MUFFINS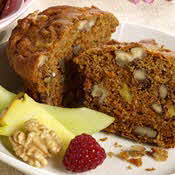 Carrot cake is a perennial favorite, but it is often loaded with vegetable oil and laden with cream cheese frosting. This version is healthier, using a small amount of olive oil, a full cup of honey for moistness and flavor, and a combination of whole wheat pastry and unbleached flours. The crunchy walnuts even add a bit of omega-3 fats to this sweet treat. With a cup of hot ginger tea, this cake will make you forget about cream cheese frosting. Enjoy!
Prep Time: 15 Min
Servings: 12

INGREDIENTS:
• 2 cups firmly packed finely grated carrots
• juice of 1 large orange
• 2 teaspoons vanilla extract
• 1/4 cup light olive oil
• 1 cup honey, liquefied in microwave (30 sec.)
• 1/2 cup crushed or chopped pineapple, drained
• 1 cup unbleached white flour
• 1 1/2 cups whole-wheat pastry flour
• 2 teaspoons baking soda
• 1 teaspoon cinnamon
• 1/2 teaspoon ground allspice
• 3/4 cup California walnuts, chopped

DIRECTIONS:
1. Preheat oven to 350°F.

2. In a mixing bowl, stir together the carrots, orange juice, vanilla, olive oil, honey, and pineapple until well blended.

3. In another bowl, stir together the flours, baking soda, and spices. Mix in the walnuts.

4. Blend the dry ingredients into the carrot mixture, stirring until just mixed.

5. Pour the batter into a 12-cup muffin pan lined with paper liners. Fill muffin cups 2/3 full. Bake for 30-35 minutes.

NOTE:
You can also pour the batter into a nonstick 8-inch-square baking pan and bake for 45-60 minutes until a knife inserted in the center comes out clean. Remove from oven, let cool slightly, cut into 12 pieces, and serve.
Recipe courtesy of California Walnut Board