See also: Corn Recipes; Article on Corn; Facts & Trivia;
Corn Quotes
CORN: Cooking corn on the cob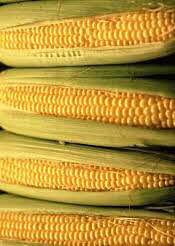 QUESTION
Dear Chef James,

I wonder if you can tell me why some corn kernels go brown when I cook them? It seems that every now and then we end up with patches or a patchwork of kernel that go brown. Is there any way of telling ahead of time to avoid buying corn that does this?

Thanks! David
ANSWER

Hello David,
The main reason for browning of cooked corn kernels is if the cut corn kernels were stored at too high a temperature. (Corn should be stored at 35 degrees F). Also, the longer the corn is stored the greater the chance of browning.
Commercially, Controlled Atmosphere (CA) storage with reduced oxygen and increased CO2 levels can eliminate the problem.

There is no way to know ahead of time if this will happen.
Chef James, FoodReference.com

Fresh corn should be stored at 35 degrees F. Use in 3 or 4 days maximum.

3 - 4 ears of corn will yield about 1 cup of cut kernels.

Fresh corn on the cob will lose up to 40% of its sugar content after 6 hours of room temperature storage. The sugar is converted to starch.

When cooking corn on the cob, be sure there is enough water to completely cover the corn, and that the water is at a good rolling boil before adding the corn. And never add salt, as this toughens the corn. Instead, add a teaspoon or two of sugar. Cook for 3 to 5 minutes and serve.

Try adding corn to your favorite vegetable soups, in rice to add color, or in tossed salads.

Corn kernels are a great addition when mixed with other vegetables.

Instead of using margarine, butter, or salt on your corn, try fresh herbs, light dressings, and or lemon.

Grilled corn is a tasty summer treat. Grill it with the husk still on to retain flavor.