Duffy's Steak & Lobster House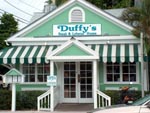 1007 Simonton Street at Truman Ave
Key West, Florida
Phone: (305) 296-4900
Parking: Metered street parking/some adjoining business parking.
Price Range: Moderate

REVIEW: Duffy's
Sometimes consistency is what you depend on when you go to a good eatery. You just know that you can get a good meal at a reasonable price today and you can come back year after year secure that it will be that way again and again. This describes Duffy's Restaurant at the busy intersection of Truman and Simonton Streets here in Key West.

Duffy's is best known for its steak and lobster, though you'll be pleasantly surprised with pretty much all the listings on the menu. Many have made mention of their key lime pie as a stand out. I go for the prime rib when I'm in the mood for steak and potatoes. They offer 3 sizes with all the good side dishes you'd expect. We have a fair quantity of high-end steak restaurants on our 4 x 2 mile island, but if you don't want "those prices" then Duffys gives you the best bang for the buck as they say.

I have to say I enjoy the décor with its hardwood floors and the back section raised up from the entry section. There's a small but adequate bar for the size of the restaurant and I like a place where the lighting is modest and not overwhelming.

Just so you know. I noted earlier that Duffy's is located at a relatively busy intersection so parking is limited to meters. Plan to walk over as it is close to downtown and easy to access. A smile on some of the servers would punctuate the dining experience. Service is consistently good, just not "happy to see you" good.

All in all I believe you will find Duffy's the eating place you want to go back to at least one night on each visit to Key West. You have to have a decent, affordable steak and seafood dinner on your vacation and for a good overall experience Duffy's will do the trick!
Doug Heyman in Key West for the Food Reference website
-----------------
email comment
While in Key West last month we were pleased to be made aware of Duffy's from the B&B we stayed at (the Garden House).
The walk was well worth it. The service was great. The atmosphere very welcoming. The food was wonderful, the dessert, their Key Lime Pie is to die for. I want that recipe. I have never made one that tastes that great, and there are many recipes out there. We will definitly go back there whenever we make the trip to Key West again.
Carla G.

email comment
We fell in love with Key West last week and a good part of the hedonistic experience was due to the restaurant reviews on your website. We appreciate great value when we travel and this was remarkably helpful and accurate. We are by no means gourmets, but we had some great inexpensive meals. Most notably, some outstanding, creative and unusual breakfasts at Camille`s, and the Cuban Mix Sandwich at the Paradise Cafe has to be one of the great bargain lunches, anywhere. (We split one of the huge things, had a beer and some chips and weren`t hungry again `til midnight.) Perhaps our favorite was Duffy`s Steak and Lobster House. The casual, but warm ambience, genial and attentive service, and the simple but wonderful menu were so memorable, that we returned 3 times in a week. Many thanks for helping to make this a pinnacle vacation experience for us both. Craig and Ted in Boston

Review - 2003
RATING: 9+
There are a few different places at which to get a good steak. Duffy's ISN'T one of them. Duffys offers GREAT steaks with accompaniments to match. I was introduced to Duffy's Steak and Lobster House by my friend Matthew. Thank you!
I love everything about the place and must admit that for a time I fell, for a moment, into the rumor wake about it being "not so good" and "iffy" on the service level. Fortunately, I like to give places the benefit of the doubt...especially when otherwise fantastic places get a bad rap. Ownership notwithstanding, Duffy's is a magnificent, laid-back, high-quality, unassuming star.
I have enjoyed everything that I have ever eaten there. The fried alligator tail is good and tender. Sweet and moist. The stuffed mushrooms should be pictured in the dictionary with the caption: "perfectly seasoned, extremely fresh and magnificent". I enjoyed one of their surf and turf offerings consisting of prime rib and Florida lobster tail---both served to perfection.
Be advised that Duffy's may have the best cheesecake around. My dinner companions this night (three others) lovingly called it "cheeseloaf" for the sheer size of it! It was cheesecake the way I remember it in Manhattan at places like Tad's. It was simple and simply perfect.
Duffy's has mastered the steakhouse formula in a commendable way. It is simple and simply perfect!
Marc for FoodReference.com