Jose's Cantina

(Cuban Restaurant)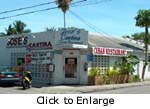 800 White Street, Key West, Florida
Phone: (305) 296-4366

Hours: 8am - 10pm - Breakfast, Lunch, Dinner
Eat-In and Take-Out
Price Range: Low Moderate

REVIEW
In a previous review for a very local Cuban style restaurant I was impressed with the food (especially with the Cuban mix sandwich in one instance) and the family atmosphere (in another instance), but with Jose's Cantina you get too much quantity of both without the quality. I know that certain Key West neighborhoods are very protective of their local eating establishments and there will be those who will disagree with this evaluation since it's their home eating spot, but I have had a lot to compare it to and this is my overwhelming impression.

Let me explain. You walk in and the smells are wonderful, the food on everyone's plate looks inviting and you feel like you may have hit the jackpot for Cuban food. I want the local flavor if I'm visiting a new location, but the tables at Joses didn't look clean, I was served by a woman with a diapered baby in her arms and given a menu that needed a new slipcover. That's too local for me.

I only ate "in" once, and I went back a few times for take out to make sure my determinations were fair. The pulled pork was tender and well prepared, but I wasn't impressed with the sauce. The sides were pretty basic for a Cuban meal here; yellow rice, black beans and plantain. The Cuban mix sandwich was fine, but I can go down the street to at least 2 other spots and get one better. You will get very healthy portions, so plan on a doggie bag upon departure or lunch for tomorrow if you take out.

Since we have a large Cuban population here on this 4 by 2 mile island the competition for their food specialties is high. In other words you can afford to be choosy, so go ahead and try Jose's Cantina and then head over to Sandy's or El Siboney or El Maison de Pepe's and tell me if I'm off base here. I didn't know much about Cuban food before I moved here to Key West and the education process has been a fun experience to say the least, but you have to venture out and try local fare when you're away from home so go for it!
Doug Heyman for the Food Reference Website