Finnegan's Wake

Irish Pub and Eatery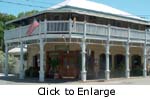 320 Grinnell St., Key West, Florida
Just off Eaton St. near the old historic seaport
Phone: (305) 293-0222
Website: http://www.keywestirish.com/

REVIEW
You have to love the classic Irish pub in any town and Key West is no different. Our spot is called Finnegans Wake just a block off the old seaport on the Gulf side of the island. We have a number of good Irish bars around town, but if you could take a genuine pub from Ireland and beam it across the ocean to America's only Caribbean island this would be it. When you open the etched glass doors you want to immediately look over the railed high ½ wall on your right to see all the activity on the other side, but you might be drawn to the stage on your left where live music is often playing.

Your first decision upon entering Finnegan's Wake is which of three distinct dining areas you want to eat in. First up would be the bar and space filled with high chairs and tall round tables with the condiments fenced in the center by an elevated small platform. Yes, there is a big screen TV in the far corner, but they have to make some concession to the American pub style and the locals who frequent the establishment to see the "big game." As you walk straight ahead and up one step you are in an indoor dining space with dark wood booths and décor befitting, once again, a genuine Irish eating and drinking spot. Since the weather in Key West is often conducive to eating outdoors your next move would be through some French style doors to the garden. You may base your choice on the respective noise levels. Hey, it's a pub!

Be prepared to relax and spend some time perusing the menu once you are seated, as the selections are numerous. You can almost taste each dish as you read about them. I look upon Irish food as comfort food even though I'm not Irish. You will of course find shepherd's pie, bangers and mash, Killian's Red along with other classic beers and a great lamb stew. I love the meat loaf personally and you won't go wrong experimenting with any appetizers. Irish fare is filling and you should be prepared to take home the old doggie bag.

On the ever so slightly negative side I have had inconsistent service, but they tend to be busy and the Irish brogue emanating from many of the server's mouths makes you let this aspect slip. It's also located in a densely populated zone of the island, so plan on putting your car in the somewhat overpriced multi-story parking facility next door.

It's easy to imprison yourself on Duval St. which is all tourist all the time these days in downtown Key West and avoid the outer realms of the city center. If you don't wander off the main thoroughfare you will miss so much of the island's personality and most of us locals are really quite harmless. So venture out and join us at a warm eating and drinking venue that will most assuredly have you meeting new friends and provide you with fond memories of your visit here. Finnegan's is just the place.
Doug Heyman for the Food Reference website