Bagatelle Restaurant

(Caribbean Cuisine)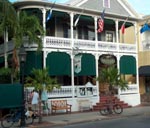 115 Duval Street
Key West, Florida
Phone: (305) 296-6609
Website:
http://www.bagatellekeywest.com/
A Chef James Best of Key West Restaurant
Parking: Pay-lot parking/some adjoining business parking some side street parking.
Price Range: Moderate

REVIEW
If you use your imagination you can almost experience what Key West was like in its shipwreck heyday while sitting on Duval St. downtown in many of its eating establishments. Bagatelle Restaurant is just one of those spots. The architecture alone calls you into the place, but once you walk through the tall shuttered doors and sit at the bar or one of the cozy tables and watch the people go by you swear Truman Capote or Ernest Hemingway will be occupying the seat next to you any minute.
Since I, like many, am a people watcher, this is a great location to enjoy such a pastime while sipping a glass of wine and enjoying one of the terrific appetizers on the menu. My choice for a meal starter here is the tuna tataki. Put some bread and a salad on the bar next to this plate and you have a little bit of heaven in the southernmost city. I have been so enamored with this specific selection I have not, as yet, gotten to a main course, but I will take on the main menu soon and report back to you.
Pardon me here while I make an editorial comment, but I am not a fan of the corporate restaurants currently causing pockmarks on the face of this historic and fascinating city. A four by two mile island does not need three Dunkin Doughnuts, two Wendy's and two Burger King's when individual owners have made such an incredible effort to bring in superior chefs who use our terrific local food resources to bring a quality product to the table every day. I say this in the framework of this review of Bagatelle because it is a perfect reflection of what is right and good about the Key West eating experience. I just felt this was something that needed to be said.
In closing I want to say that I have only seen smiling faces serving the bar and dining room at Bagatelle and I for one find this an extremely important aspect of the experience of eating out. Duval St. is just about a mile and a quarter long, so once you park your car at your hotel or Inn just leave it behind and walk and when you get hungry for good food in a classic downtown Key West environment then I highly recommend walking up to the front porch at Bagatelle and become part of its history.
Doug Heyman
for the Food Reference website