Abbondanza Italian Restaurant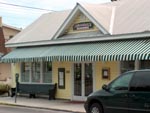 1208 Simonton Street
Key West, Florida
Phone: (305) 292-1199
Parking: Free parking
Price Range: Moderate
REVIEW
I'm a big fan of Italian food, but I like it even more when it's served at a reasonable price, in a friendly atmosphere and in a healthy quantity without loss of quality. I think that sums up the overall picture of Abbondanza Italian Restaurant in Key West. You can eat here tonight and go back to your hometown after your visit to the Keys and come back next year and get the same good food and service. It is the most consistent of all the eateries on the island.
I have had almost everything on the menu since my arrival in Key West a number of years ago. I don't know if I have a favorite dish, but if I were up against a wall I'd have to say it was the veal Marsala. The sauce is full bodied and the presentation has you ready to go when it hits the table. All the meals are served with a small house salad with a creamy Italian dressing that is close to the best I've had anywhere, fresh crusty bread (dipping olive oil to go with) and more then enough on the main course plate then you can imagine (hence the name "Abbondanza").
A couple of things that one should note; the last visit I made there they were charging for refills of soft drinks and certain sections of the eating area are colder and some warmer. I have had to ask the staff to adjust the temperature each time I've visited. So, if you don't mind carrying a wrap with you and drinking wine with your dinner instead of soda you'll have one of the most pleasant meals of your stay in the Southernmost City.
Yes, you can get Italian food in any locale in the country and if you're in Key West you will most definitely want to consume local fare, but it's okay to try a more traditional food style while you're vacationing as long as it has a good local following. I have enjoyed every visit to this establishment and have never heard a bad word spoken by visitors. You can eat here with confidence and depart having been satisfied and treated very well by the servers and staff.
Doug Heyman
for the Food Reference Website