Camille's Restaurant

(Key West Eclectic)
1202 Simonton Street at Catherine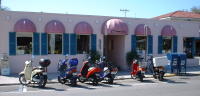 Key West, Florida
Phone: (305)296-4811
Website:
http://www.camilleskeywest.com/
A Chef James Best of Key West Restaurant
Hours: Daily- 8am-10pm (for food)
Reservations: Suggested
Parking: Metered street parking, ample off-street parking (after banking hours) courtesy of First State Bank.
Price Range: Moderate

UPDATED REVIEW
I still love this place so much. It's a Camille's attitude I think and, as I've said before about this spot, they don't take themselves too seriously except when it comes to the food.

It's been a couple of years since it moved from lower Duval Street to it's Simonton Street location and I just thought it warranted some attention. I was in just the other night with two friends visiting from Virginia and we had a creamed spinach soup, petite Caesar salad and I went for my old standby the yellowtail and the place never lets me down. A glass of Pinot Grigio and I was happy.

It was midweek so the crowd was predominantly local, but our season is kicking in now and the clientele will shift to visitors while the locals work to meet the tourist's needs. The hostess was right there for us and our server was friendly and helpful with suggestions. I wanted a regular main course but my friends were travel weary and opted for salads and appetizers. I have been to places here where they look at you funny if you don't order soup, salad, appetizers and a main course, but not here. I have ordered just a salad, bread and wine at Camille's and no problems.

They've done a good job maintaining the facilities and are quite successful and, as I said in my initial review, I look forward to the next visit before I leave!
Doug Heyman in Key West for the Food Reference Website

Email comment
James --
Greetings from Independence Ohio ...

Just wanted to send you a note to close the loop on one of your recommendations. We ended up at Camille's on 11/04 and had a wonderful experience. Thank you so much for your recommendation. Ms. Chekliss and staff were wonderful ... ending up feeding over 70 people at an expanded rehearsal dinner for our son and daughter-in-law's wedding. The food was excellent.
We did have to contend with the Parrotheads at the reception the next day, but, we had a great time. We contributed more than a couple of bucks to the local economy, but after all of the devastation from the hurricanes, we were glad to help.

Thanks again ...
Dave and Chris Behm

REVIEW
I will just admit from the get go that Camille's is one of my favorite places to eat in Key West, and the funny thing is I can't exactly put my finger on why. It may be because there are too many reasons. I am always greeted with a smile from the Manager along with friendly conversation, the food is always delicious and the décor is edgy and whimsical. I just have fun every time I go and look forward to the next visit.
The present location for Camilles is just a couple of years old as they were downtown on Duval Street in a space far too small to handle the guests that were thronging in. They were known for their incredible breakfasts, and still are, but in the newer and larger uptown space they can better accommodate the demands of the diners. In fact, the space is so much bigger that it's almost like having three dining rooms in one with an intimate bar at its center.
Honestly, I haven't had the breakfast yet, but everyone raves about it. I've had a broad range of items from the dinner menu, but they change the selection each day so I can't recommend any one specific dish. I had a delightful pasta with Key West pink shrimp and beef tips topped with a mellow white sauce and several times when I wanted light fare I went for the tomato mozzarella salad. You always get a basket with a variety of breads and I wouldn't shy away from the appetizers, which are among their most creative specialties.
I won't give away the secret, but when you are seated I want you to look very carefully along the window ledges at some of the nick knacks that decorate the booth surrounds. I think you'll be very surprised. I love a place that serves fine food and doesn't take itself too seriously. Go ahead in and look around. You'll see what I mean.
Prices are very reasonable for the quality and quantity you receive and there is ample parking on Louisa St. flanking the pink building with plum colored awnings or across the way just off Catherine Street. I say Camille's is a must Key West eatery when you come to visit or a monthly must if you're a local. This city has a surprise around every corner, so expect a pleasant one when you walk through the doors of Camille's on Simonton Street!

Doug Heyman in Key West
for the Food Reference Website

email comment
We fell in love with Key West last week and a good part of the hedonistic experience was due to the restaurant reviews on your website. We appreciate great value when we travel and this was remarkably helpful and accurate. We are by no means gourmets, but we had some great inexpensive meals. Most notably, some outstanding, creative and unusual breakfasts at Camille`s, and the Cuban Mix Sandwich at the Paradise Cafe has to be one of the great bargain lunches, anywhere. (We split one of the huge things, had a beer and some chips and weren`t hungry again `til midnight.) Perhaps our favorite was Duffy`s Steak and Lobster House. The casual, but warm ambience, genial and attentive service, and the simple but wonderful menu were so memorable, that we returned 3 times in a week. Many thanks for helping to make this a pinnacle vacation experience for us both. Craig and Ted in Boston

___________________________________________

PREVIOUS 2003 REVIEW
RATING: 8.5+ (on a scale of 1-10, wherein ten is the ultimate.)
Ambiance: Contemporary decor, great colors, great furnishings---well done! Always some detail emerging in the eye-candy department. Decorated, lovingly, by the staff---well-done!
Kitchen: SPOTLESS
Service: I am partial to the astoundingly professional, charming, anticipatory Sarah. I have never had a need at the table that she didn't call as it occurred or didn't handle in advance of its occurrence. Brilliant! Rare! She made this and every experience in the restaurant an absolute relief.
I am not certain, but I believe she is Irish or from Scotland. It doesn't matter---her level of skill makes her from heaven. Of course I would be remiss not to have mentioned the altogether dazzling and competent Jessica!!!!! She was the very FIRST person to take care of me at Camille's and one reason that I return so often!

TROUBLE!!!!! This place has caused me an internal battle over which restaurant has the BEST Escargot preparation on Key West!!! Wait...it's coming to me now...O.K.---for Escargot a la Bourguinonne...the winner is Camille's. In fact, I haven't had a bad meal there yet.

Camille's has a gorgeous menu selection with specials that change on a daily basis. There is seemingly something for everyone. In this writer's experience with Camille's, I have been absolutely floored by the variety on offer. Favorites include an absolutely flawless steak au poivre!!!! The peppercorns were appropriately tender but not soggy (HUGE pleasure!). The beef arrived at the temperature requested. Sauced in a magnificent brandy/cream---this dish offered not one bite that wasn't an absolute symphony of flavors, textures and body!

The restaurant offers a lovely take on the revered Insalata Caprese---the addition of sprouts---a nice texture addition. I really enjoyed the Humus and Babaganoush as well, since I have gone to appetizers. WARNING: This is an authentic, but not ancient, preparation full of the requisite garlic. Truly one of the best of BOTH of these treats that I have had in years.

Also, the Stone Crab claws. Perfectly chilled. Of very high quality, a good portion, very tasty---a winner. Observation: I felt that the pre-cracking of the shells would have been a nice touch---given the level of ambiance and the "at market" or "market price". Additionally, sometimes you feel like a good claw but do not want to share it with your Armani tie---know what I mean?

The Paradise Pasta is a winner!!! This dish varies in the pasta on offer---one day a penne, a fettucine the next and so on. There is so much astoundingly fresh seafood in this dish! The sauce is a masterpiece and aroma alone speaks volumes---a must have.

I could truly go on for another five or six paragraphs on Camille's menu offerings---the menu is just that interesting. Suffice it to say that the place is beautiful---they are now in a much larger space than their previous Duval Street location. The ambiance is comforting. The food---absolutely deserving of the accolades it has earned over the years. This is one of the restaurants not to miss when on Key West. Period. (If you're lucky, you'll have the chance to chat with the owner---one of the most honest, unpretentious, good-natured people I have had the pleasure to meet.)

Marc for FoodReference.com