Hong Kong Restaurant

(Chinese, Japanese)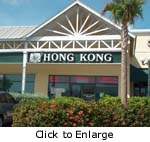 Overseas Market - Winn Dixie Plaza
2804 N. Roosevelt Blvd, Key West, Florida
Phone: (305) 296-8608

Hours: 11am to 10:30pm
Parking: Shopping Center Parking
Price Range: Moderate

REVIEW
I know I rag on the Chinese restaurants in Key West because the food is just not outstanding and, in a few instances, just not good, but Hong Kong Restaurant in the Winn-Dixie mall on North Roosevelt comes as close as you can get to decent Chinese fare. You at least appreciate the mall location for its ample parking right off the bat as downtown Key West affords little. A downside of the mall location is that the storefront is controlled so all the businesses there look the same which eliminates opportunities for this restaurant to stand out and be unique from the entrance. This changes when you walk in.

I can say I was greeted by friendly faces and very good service. Again, it's in a mall, so the décor can't fit in with the square space, but they have made every attempt to get beyond that. We had sushi appetizers and my co-diner went for the "spicy" beef while I went for chicken with Chinese vegetables. I know my co-diner likes everything spicy and though the word "spicy" was attached to the menu selection it just wasn't. I tasted it and I'm sensitive to hot peppered food and I didn't flinch. My meal was fine, but not as flavorful as I keep hoping for as I eat my way across this 4 x 2 mile island. I have ordered the sesame chicken as take out from Hong Kong and of all the selections here that is my favorite and I do enjoy it, so I can't poo-poo everything across the board.

I guess it's having been in big cities so often in my life that the ability to go into a "Chinatown" zone to get formidable Asian food with such distinct and rich flavors; well, I got spoiled. The Chinese families that operate the restaurants in Key West are some of the kindest and friendliest people I've spoken to, but for some reason the food itself just isn't where it could potentially be. It could be the economy on the island, which may make the cost of finer ingredients prohibitive, or the distance the contents must travel to get here (we're 4 hrs from the mainland). It's not clear to me what the issues are that keep the Hong Kong and other Chinese food establishments from getting to the next level, but I will always want to have this type of food as an option so I won't stop going.

I think you'll be happy making Hong Kong Chinese your choice for dinner for many reasons, but for me it was mostly the company I kept and the nice way I was treated there. You won't get any more sticker shock from the prices here then any other place on the island and even if it may seem a touch high to you the smiles you get from the servers will be worth it either way.
Doug Heyman in Key West for the Food Reference Website

PREVIOUS

REVIEW
There are several Chinese or Japanese restaurants on Key West. I like each of them for various reasons. They each have a different clientele it seems and the food is pretty typical fare as Asian restaurants go.

What I like about Hong Kong is that they also offer some specifically Japanese specialties. These include Miso and Noti soup, varied Maki, Sashimi (including Eel, Conch Tuna, and Salmon). The service is classically efficient. They offer a great variety and a magnificent quality of food and seem to take their sushi and dashimi quite seriously (marvelous value!). The Seaweed Salad (one of my favorite salads---for those who appreciate it) is not as fine as I have become accustomed to, thought certainly acceptable. To me it reflects the difference between a Bentley and a Gremlin. O.K. maybe a Bentley and a Mercedes to be fair---with more than 200 offerings, There is certain to be something for everyone!