Goldman's Bagel Deli




(Philadelphia Style Deli)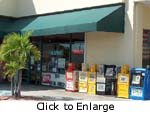 Overseas Market Plaza
2796 N Roosevelt Blvd, Key West, Florida
Phone: (305) 294-3354
Hours: Tues.- Sat. 7 a.m. - 4 p.m.; Sunday 7 a.m. - 3 p.m.
Price Range: Low+

UPDATED REVIEW
I promised updates and here we go. This one is in response to an e-mail I received recently, so I felt it was important to get another "taste" of our main hometown deli.

It would seem that, once again, a restaurant or local business is affected by relationships among owners/managers.

It's hard to realize sometimes, but Key West is really still just a small town with all the Mayberry-like life experiences you might expect from locals. That's life now isn't it? I can name at least 4 or 5 eateries that fit into this category, but they closed.

Goldman's has weathered it's storm and the visit I used to review it initially occurred during a stress period and I'm happy to say the smiles are back, the presentation (plating of the food) has a good look and the owner is looking quite svelte these days. "A"… Are you working out? I have always felt that Goldman's was our only real deli on the island and that puts it in a category unto itself and, therefore, puts higher expectations on the property. Go, enjoy breakfast and lunch and get the island's best genuine deli experience!

Doug Heyman in Key West for the Food Reference Website

PREVIOUS REVIEW
I was born in New York so I am unabashedly a snob when it comes to buying from or eating in a genuine bona fide deli restaurant. You know the kind of place of which I speak, where you can get thin slices of corned beef piled high on rye bread that's soft in the center and crusty on the edge. You want bagels that have substance and real cream cheese mounded on top of each half. Dense chopped liver, full-bodied potato salad and creamy coleslaw as a side. We also want matzo ball soup in rich chicken broth for those cooler days and nights.

When I first arrived in Key West I was told most places called "deli" were so because they served cold cuts on store bought deli bread and not to expect much more. I'm not saying these places don't provide good food options, but they are not a New York style delicatessen. The only place touted to be the real thing is called Goldmans Deli located in the Overseas Market Plaza Mall off N Roosevelt Blvd here in Key West.

The owners/operators of Goldman's are from Philadelphia and I can't exactly put my finger on it, but there's a difference between a Philadelphia style and New York style delicatessen. It's strictly a preference I have and no aspersions are meant to be cast on the wonderful culinary specialties originating in Philly. I love a good Philly cheese steak! I just don't find the flavors of the food to be quite the same and the environment doesn't make you feel like you've stepped into someone's family tree.

Goldman's serves breakfast and lunch. I went there early on in my move to Key West and I found the service friendly and fast, the menu varied and abundant and the quality of food quite good at both meals. Again, I'm trying not to inject my New York style prejudices here. I had a good overall experience here.

In recent months I must say the serving has lacked enthusiasm and breakfast, at least, is missing reasonable presentation and flavor. There are lots of people behind the counter working hard, but as a local on my day off I could use a friendly face out in front. It's a good place historically so hopefully these few issues can be tended to and Goldman's can get back to being "THE" island deli.
I will continue to visit Goldman's Deli and let you know when and if the edge returns.
Doug Heyman for the Food Reference website