The Deli Restaurant

(Comfort and Seafood)
531 Truman Ave and Simonton St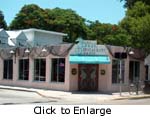 Key West, Florida
Phone: (305) 294-1464
A Chef James Best of Key West Restaurant
Closing for good on May 29, 2007 due to the changing economy in Key West according to owner Bob Bernreuter
Price Range: Low
Hours: 7:30 am to 10 pm 7 days
Parking: Limited dedicated parking and metered street parking

REVIEW
I'm always looking for a friendly place close by to have breakfast, lunch or dinner that is, well, dependable. You know what I mean; no matter when you go you can expect the food to be pretty good, service pleasant and the environment relaxing. Even living and working in Key West can be stressful sometimes and The Deli is centrally located enough so if I need comfort food ASAP then you're right there.

I have to say my Deli experience is relatively new. I worked and lived in and around Washington, DC for almost 25 years and never went into the Washington Monument even though it dominates the skyline in that special city. I passed The Deli just about every day for years and though it peaked my interest I never went in. It took prompting from a special friend when we both looked at each other and wanted the same thing for dinner at the same time and she recommended trying it at The Deli. We had actually gone to breakfast there after an early Mass at the local Catholic Church a few weeks prior, but we were so engrossed in conversation I didn't observe my surroundings very much.

When you are situated at one of the busiest intersections of Key West parking can be a hassle, but if you're lucky you can parallel park in one of the few dedicated spots allotted to the restaurant. Beyond that it's the meters and be aware that the parking authority is very good at their job! You enter right on the corner and you will notice that the diner like foundation (counter, register, 4 top individual tables etc) is superimposed by a loose waterfront motif. Local police officers frequent the eating spot along with a mix of other locals and a smattering of tourists. The menu is a solid diner listing, but with a Keys orientation towards local fish specialties. So, from fried chicken and meat loaf to grouper you are in good shape.

Like any good diner you get side choices like carrots, broccoli, spinach, soups, salads and many other hearty offerings. They give you a choice of breads and the serving sizes are more then ample. Also, like most good diners you will pass the display of delectable looking deserts that always call my name, but at least for now, I have managed to avoid their clarion call. It hasn't gotten past me that the local health food store is just across the street!

When you're in town and need home style cooking then its just steps away on the corner of Simonton and Truman Streets at the Deli. It's not fine dining, but diners aren't supposed to be. So, relax, chat and feel right at home here!
Doug Heyman in Key West for the Food Reference Website