Half Shell Raw Bar

(Seafood)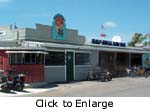 Old Historic Seaport
231 Margaret St., Key West, Florida
Phone: (305) 294-7496
Website: http://www.halfshellrawbar.com/

Parking: Free Parking Lot
Price Range: Moderate
Motto: Eat it Raw

REVIEW: Half Shell Raw Bar
I obviously love Key West or I wouldn't live here and the old seaport is an indelible part of the economic and social history of the island. Whether you're a visitor or if you reside here a stop at this location is a must on a regular basis. One highlight is the quantity and quality of the restaurants along the pier(s) and one spot in particular that has stood the test of time is the Half Shell Raw Bar.

It's quite possible (if you're human) that what will draw you in is the logo; an attractive woman in a Greta Garbo poster-style pose common to the World War II era. Then you walk in and notice all the license plates wallpapering the ceilings and walls. It's generally busy and promotes a pub-like atmosphere, so if that's appealing to you then right off the bat you'll get into a good groove and enjoy the experience.

Before we discuss the food you will want to be aware that seating is at long picnic tables providing service to everyone including those not in your party. If you prefer individual tables this should be a consideration and you may have to wait a bit to get one. In either seating arrangement you get the Gulf of Mexico and the boat traffic on the seaport right in front of you and that alone makes the experience special. Also be aware that paper plates, plastic baskets and paper towels are the serving implements of choice going along with the picnic table motif.

The description of the atmosphere, though obviously not fine dining, should not discourage anyone from stopping in because you will be missing out on some good fare. I enjoyed a wonderful fish sandwich on what seemed to me to be a fresh baked roll. On my last visit I had a friend with me who was not a seafood enthusiast, so she ordered the ribs. Well, let me tell you all the others wanted to taste the barbecued specialty and some even ordered them on top of what they had already eaten. I was very surprised that a place known for seafood could come up with a meat dish that towers over most steak eateries on the island.

There's tremendous competition to satisfy your hunger among the 10 plus eateries in this very concentrated and important geographical region of the southernmost city. Enjoy your "Duval crawl," but then scoot up Caroline, Green or Front Streets and experience seafood (and ribs) on the water. You'll not only visit a piece of the island's history, but you'll be treated to some local fare that will please the palate. Half Shell Raw Bar will become a favorite right away!
Doug Heyman in Key West for the Food Reference website.