MAY 26 - Today in Food History
• National Blueberry Cheesecake Day
(48 Cheesecake Recipes -- Cheesecake Baking Tips)
• National Cherry Dessert Day (Cherry Trivia & Facts)
(Cherry Cake Recipes -- Cherry Pie Recipes)
• Ireland: National Herb Week (May 22-28, 2022) An annual event in Ireland celebrating herbs and herbal medicine. [Irish Register of Herbalists]
• UK: British Sandwich Week (May 22-28, 2022)
[The British Sandwich Association] (Sandwich Trivia)
(Sandwich Recipes --- Sandwich Quotes)
• UK: British Tomato Fortnight: May 23-June 5, 2022
[British Tomato Growers' Association]
(Tomato Trivia --- Tomato Recipes)

On this day in:
1647 Alse Young of Windsor becomes the first person on record to be executed for witchcraft in the American colonies, when she is hanged in Hartford, Connecticut.
1818 Urbain Dubois was born (died March 14, 1901). French chef, author of many cookbooks, but especially 'La cuisine classique' (1856). Served as chef to Prince Alexey Orlov and Prince William of Prussia.
1864 Montana becomes a U.S. territory.
(Montana Food Trivia --- Montana Food Festivals)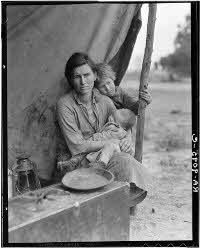 1885 Dorothea Lange was born (died Oct 11, 1965). Documentary photographer, Lange is best known for her Depression-era work for the Farm Security Administration (FSA). (Photo: Dorothea Lange's "Migrant Mother" 1936 Nipomo, California. FSA Collection)
1908 Shortly after 4:00 am, Canadian drillers working for the Anglo-Persian Oil Company make the first major oil discovery in the Middle East at Masjid-i-Suleiman (in present day Iran).
1923 James Arness was born. Best known as Marshal Matt Dillon on the TV series 'Gunsmoke,' he also played the creature in the 1951 movie 'The Thing from Another World.' The creature was a vegetable based alien life form, a "super intellectual carrot."
1927 The last Model T Ford rolled off the assembly line. 15 million Model T's were produced from 1908 to 1927. Known as the 'Tin Lizzie.'
1950 Fuel rationing ends in the UK. Petrol rationing was first imposed at the onset of World War II in September 1939.
1955 Morimoto Masaharu was born in Hiroshima, Japan. Masaharu is a well known Japanese Chef, and was the last Japanese Iron Chef on the TV show, Iron Chef (late 1990s). He now has his own restaurant, Morimoto in Philadelphia.
1971 Don Maclean recorded 'American Pie'.
1979 'Reunited' by Peaches & Herb is #1 on the charts
1993 Parliament approves Canada's participation in the North American Free Trade Agreement (NAFTA). NAFTA will become effective on January 1, 1994.
1995 Isadore 'Friz' Freleng died (born Aug 21, 1906). Cartoon animator, he created or developed cartoon characters Bugs Bunny, Porky Pig, Sylvester the Cat, and Tweety Bird.
1998 The U.S. Supreme Court rules that Ellis Island - historic gateway for millions of immigrants - is mainly in New Jersey, not New York.
1999 Waldo Lonsbury Semon died. Semon was an American Inventor who is credited with the invention of Vinyl. Vinyl is the 2nd most used plastic in the world. Semon held over 100 patents.
2000 Legislation in San Francisco banning discrimination based on Height or Weight became effective. (see also May 8, 2000).
2010 In Greece, a horde of millions of frogs forced the 2 hour closure of a major highway east of Thessaloniki.
2020 Coronavirus: Despite increased precautions meat industry workers still getting sick.