CHERRIES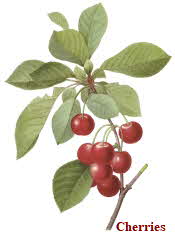 Cherries are drupes, or stone fruits, related to plums and more distantly to peaches and nectarines. They have been enjoyed since the Stone Age -- pits were found in several Stone Age caves in Europe. The Romans carried cherries throughout Europe and England along the routes of conquest.
CDC.gov - 5 a Day
Michigan has over 35,000 acres of tart cherry trees and grows almost 75% of the tart cherries produced in the United States. Traverse City is called the Cherry Capital of the World.

Eau Claire, Michigan, is known as the Cherry Pit Spitting Capital of the World.

Michigan has almost 4 million cherry trees, producing about 150-200 pounds of tart cherries on each tree.
The Cherry was designated as the Official Fruit of Utah in 1997.

Seventy percent of the cherries (both sweet and tart) produced in the United States come from four states (Washington, Oregon, Idaho, and Utah).
CDC.gov - 5 a Day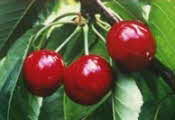 Washington state grows more sweet cherries than any other state. In 2000 Washington growers produced about 95,000 tons of cherries. (USDA 2004)
The earliest known mention of cherries is in Theophrastus (372-272 B.C.) 'History of Plants', in which he indicated that cherries had been cultivated for hundreds of years in Greece.
Pliny suggested that Roman General Lucullus introduced cherries to Europe around 74 B.C., but some research suggests that cherries were known in Italy at a much earlier date. Lucullus is said to have committed suicide when he realized he was running out of cherries.
The forecasted U.S. tart cherry production for 2008 totals 177 million pounds. Of this total, the overwhelming majority (135 million) will be produced in Michigan.
Broadway in New York shifts west at East 10th Street because a cherry tree once stood there.
There are more than 1,000 varieties of cherries in the United States, but fewer than 10 are produced commercially.
Kane, Pennsylvania, is the Black Cherry Capital of the World
At one time it was against the law to serve ice cream on cherry pie in Kansas.
There are about 7,000 cherries on an average tart cherry tree (the number varies depending on the age of the tree, weather and growing conditions), and it takes about 250 cherries to make a cherry pie, so each tree potentially could produce enough cherries for 28 pies.
Cherry Marketing Institute
There are thousands of Japanese cherry trees that circle the Tidal Basin and the Jefferson Memorial in Washington D.C. The trees were originally planted as a gift from the people of Tokyo, Japan, in 1912. In 1910, a previous donation of 2,000 cherry trees had to be destroyed after they were infested with insects. Each spring, the National Cherry Blossom Festival, a two-week-long celebration, attracts tens of thousands of visitors from around the world to see the magnificent trees in full bloom.
Library of Congress Local Legacies Project
The Cherry Pit Spit began in 1974, when Herb Teichman, a Michigan cherry farmer, was looking for 'something to do' with cherry pits. Growing from a neighborhood get-together to an international competition, the Cherry Pit Spit is recognized by the Guinness Book of World Records as an official competition.

'Pellet Gun' Krause is the 10-time winner of the International Cherry Pit Spitting Championship. Each July hundreds of people from across the country and around the world gather for the Championship. The contest marks the beginning of the harvest of tart cherries in southwest Michigan. Until 1993, Rick 'Pellet Gun' Krause of Arizona held the world record with a spit of 72 feet, 7 inches. Believe it or not, that's more than 20 feet less than the current world record. According to the Guinness Book, the world record is now 95 feet, 9 inches.?
Library of Congress Local Legacies Project

FREE Magazines
and other Publications
An extensive selection of free magazines and other publications
FOOD TRIVIA and FOOD FACTS
Please feel free to link to any pages of FoodReference.com from your website.
For permission to use any of this content please E-mail: [email protected]
All contents are copyright © 1990 - 2023 James T. Ehler and www.FoodReference.com unless otherwise noted.
All rights reserved. You may copy and use portions of this website for non-commercial, personal use only.
Any other use of these materials without prior written authorization is not very nice and violates the copyright.
Please take the time to request permission.
CULINARY SCHOOLS
& COOKING CLASSES
From Amateur & Basic Cooking Classes to Professional Chef Training & Degrees
FoodReference.com (since 1999)
FOOD TRIVIA and FOOD FACTS SECTION