CHERVIL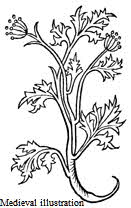 Chervil (Anthriscus cereifolium) is an aromatic herb, a member of the parsley or carrot family, and indigenous to the regions around the Black and Caspian Seas. It is an essential ingredient of fines herbes, widely used in French cuisine.

Some varieties of chervil also have edible roots which are like small turnips. Turnip-rooted chervil was enjoyed by the early Greeks and Romans, and in England during the 14th to 17th centuries.

Chervil is native to eastern Europe and western Asia. It was introduced to France and England by the Romans more than 2,000 years ago. It is now sourced by McCormick primarily from France and Holland.