CHERVIL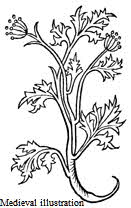 Chervil (Anthriscus cereifolium) is an aromatic herb, a member of the parsley or carrot family, and indigenous to the regions around the Black and Caspian Seas. It is an essential ingredient of fines herbes, widely used in French cuisine.

Some varieties of chervil also have edible roots which are like small turnips. Turnip-rooted chervil was enjoyed by the early Greeks and Romans, and in England during the 14th to 17th centuries.

Chervil is native to eastern Europe and western Asia. It was introduced to France and England by the Romans more than 2,000 years ago. It is now sourced by McCormick primarily from France and Holland.

CULINARY SCHOOLS
& COOKING CLASSES
From Amateur & Basic Cooking Classes to Professional Chef Training & Degrees - Associates, Bachelors & Masters - More than 1,000 schools & classes listed for all 50 States, Online and Worldwide
FOOD TRIVIA and FOOD FACTS
Please feel free to link to any pages of FoodReference.com from your website.
For permission to use any of this content please E-mail: [email protected]
All contents are copyright © 1990 - 2023 James T. Ehler and www.FoodReference.com unless otherwise noted.
All rights reserved. You may copy and use portions of this website for non-commercial, personal use only.
Any other use of these materials without prior written authorization is not very nice and violates the copyright.
Please take the time to request permission.
FoodReference.com (since 1999)
FOOD TRIVIA and FOOD FACTS SECTION