JUNE 8 - Today in Food History
• World Oceans Day: A global day of ocean celebration and collaboration for a better future for this amazing resource that we all depend on.
[History of World Oceans Day]
• National Rosé Day (June 8, 2019 -2nd Sat in June)
[Bodvár – House of Rosés]

• National Jelly Filled Doughnut Day
• Chicken Tetrazzini Day (see 1871 below)
(Chicken Tetrazzini Recipe -- Chicken Tetrazzini Trivia)

• Maple on Creme Fraiche Day (see 1985 below)

• World Gin Day (June 8, 2019)
• Medard of Noyon Day, patron for good harvests and brewers.
• Alex's Lemonade Days (June 1-9, 2019)
[Alex's Lemonade Stand Foundation]

(Lemonade Recipes)
• Dairy Goat Awareness Week (June 8-15, 2019)
[American Dairy Goat Assn] -- (Goat Trivia & Facts)

• National Garden Week (June 2-8, 2019)
[National Garden Clubs Inc]
• National Fishing & Boating Week: June 1-9, 2019
[Recreational Boating & Fishing Foundation]

(Articles About Fish & Fishing)

• UK: [Food Safety Week] (June 6-10, 2019)
On this day in:
1784 Marie-Antoine Careme was born (died Jan 12, 1833). The "chef of kings and the king of chefs."
1786 In New York City, the first advertisement for commercially made ice cream is published in the 'Post Boy.' The ice cream was for sale at City Tavern.
(Ice Cream Trivia & Facts)

1824 A washing machine was patented by Noah Cushing of Quebec. This was the first Canadian patent ever issued.

1848 Franklin Hiram King was born. American agricultural scientist and inventor of the cylindrical tower silo.

1859 Walter Hunt died. Hunt invented the first safety pin ('dress pin') in 1849.

1869 The first American patent for a sweeping machine was issued to Ives W. McGaffney of Chicago.
1871 Luisa Tetrazzini born. Italian operatic soprano. Chicken Tetrazzini, created by an American chef (San Francisco?), was named in her honor.

1880 At the 1st International Miller's Exhibition in Cincinnati, Ohio, Washburn Crosby Co. of Minnesota (forerunner of General Mills) won 3 top medals for their flour, including the 'Gold Medal' for Superlative Flour. They adopted 'Gold Medal' as the name of their best flour. (Flour Trivia and Facts)

1926 Dame Nellie Melba gave her farewell performance. Melba toast and Peach Melba were named in her honor.
(Peach Melba Recipe)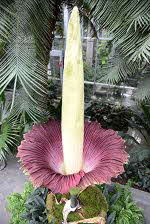 1937 World's largest flower blooms at the NY Botanical Garden, the giant Sumatran Titan Arum (Amorphophallus titanum), 8½ feet high and 4 feet in diameter. Its odor is like that of a putrid, rotting corpse.
(Photo: U.S. Botanical Gardens)
1953 The U.S. Supreme Court ruled that segregated eating places in Washington, D.C. were unconstitutional.

1965 The merger of Pepsi-Cola and Frito-Lay was approved by shareholders of both companies, forming the new company PepsiCo, Inc.

1985 Creme Fraiche won the Belmont Stakes, ridden by Jockey Eddie Maple.
1992 The U.N. Commission on Sustainable Development was created.

2001 The movie 'Swordfish' opened in U.S. theatres.

2018 Anthony Bourdain died (born June 25, 1956). He died of an apparant suicide. Influential American celebrity chef, author ('Kitchen Confidential') and culinary traveler. Host of 'A Cook's Tour', 'Anthony Bourdain: No Reservations' and 'Anthony Bourdain: Parts Unknown'. [www.travelchannel.com/shows/anthony-bourdain]