Herbed Flank Steak & Focaccia Appetizers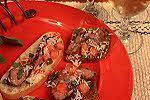 A great appetizer any time of the year.
Servings: 48 appetizers
Prep Time: 20 minutes
Cook Time: 45 minutes

Ingredients:
• 3 lbs. flank steak
• 1/4 cup Worcestershire sauce
• 3 cloves garlic, minced
• 2 Tbsp. green onion, sliced thinly
• 1 tsp. rosemary, crushed
• 1 tsp. thyme
• 1 tsp. pepper
• 3 loaves focaccia (herbed flat bread) - each loaf cut into 16 slices
• 3 Tbsp. olive oil
• 1 cup grated Parmesan cheese

Instructions:
Combine Worcestershire, garlic, onion, rosemary, thyme and pepper.

Rub surface of meat, cover and refrigerate 6 to 24 hours.

Remove beef from marinade and roast in 325°F oven to desired doneness (135-140°F for rare).

Slice beef against the grain diagonally into 1/8-inch thick slices.

Brush bread with olive oil, and arrange sliced beef on bread.

Garnish with finely chopped green onion, rosemary or thyme, sprinkle with Parmesan cheese.

Recipe courtesy of the Texas Beef Council