FAST-OFF-THE-GRILL CHORIZO QUESADILLAS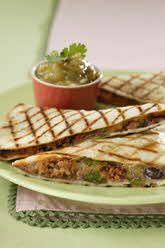 Serves 8.
INGREDIENTS
• 3/4 pound bulk pork chorizo
• 5 (10-inch) flour tortillas
• 1 can (16 ounces) black bean refried beans
• 1/2 pound colby cheese, grated
• 1 cup loosely packed fresh cilantro leaves
• Olive oil for brushing
• 1 1/2 cups store-bought tomatillo salsa (see Cook's Note)

Cooking Directions
Heat a medium skillet over medium-high heat. Use a spatula to crumble the chorizo as you place it in the pan. Sauté the chorizo until browned and cooked through, about 5 minutes. Using a slotted spoon, remove the chorizo from the skillet to a plate.

Arrange 5 tortillas on a work surface. Spread about 1/4 cup refried beans evenly over half of each tortilla, leaving a 1/2-inch border. Scatter about 1/3 cup cooked chorizo over beans. Scatter a generous 1/3 cup of cheese over top. Divide and arrange cilantro over top of cheese. Fold opposite half of tortilla over the filling. (The quesadillas can be assembled up to 1 hour before serving. Cover loosely with plastic wrap so they don't dry out, and set aside at room temperature.)

Prepare a medium fire in a charcoal grill or preheat a gas grill on medium.

Brush outsides of tortillas with a small amount of oil. Using a wide spatula, transfer quesadillas to the grill. Grill on one side for about one minute, slide and turn quesadillas 90 degrees, grilling until nice cross-hatch grill marks appear. Slide spatula underneath to flip quesadillas and grill the second side.

Transfer the quesadillas to a cutting board. Use a sharp knife or pizza cutter to cut the quesadillas into 5 wedges. Arrange on a platter and serve immediately accompanied with the tomatillo salsa.
Cook's Note
Look for tomatillo salsa fresh in the refrigerator case or in jars on the shelf in well-stocked supermarkets.
Serving Suggestions
Chorizo is a flavorful Mexican sausage that can be found in specialty grocery stores and some large supermarkets. This is a great starter for your outdoor gathering.
Nutrition Facts
Calories 540 calories; Protein 25 grams; Fat 31 grams; Sodium 1100 milligrams; Cholesterol 70 milligrams; Saturated Fat 13 grams; Carbohydrates 40 grams; Fiber 5 grams

Recipe & photo courtesy of National Pork Board. For more information about The Other White Meat, visit TheOtherWhiteMeat.com