Also see Articles: Watermelon, an American Favorite
Watermelon History
WATERMELON TRIVIA & FACTS
· Florida led the nation in watermelon production in 2009 with 818 million pounds.
· Florida led the U.S. in watermelon production in 2006 with 835 million pounds. (US Census Bureau)

There are over 1,200 varieties of watermelons grown in 96 countries. China is the number one producer of watermelons.
• In 2007 the top 5 watermelon producers were:
• China 63 million tonnes
• Turkey 3.4 million tonnes
• Iran, Islamic Republic of 3.3 million tonnes
• Brazil 1.9 million tonnes
• United States 1.9 million tonnes
Watermelons are native to southern Africa, but have been known in India since prehistoric times, and in Egypt for 5-6,000 years.

The first recorded watermelon harvest took place 5,000 years ago in Egypt. Pictures of the fruit were found in paintings on the walls of ancient buildings. From there, the fruit spread to other countries by merchant ships.
Library of Congress Local Legacies Project
In 1939 seedless watermelon was developed by treating the unpollinated flowers of watermelons with a specific acid, which resulted in the seedless watermelon.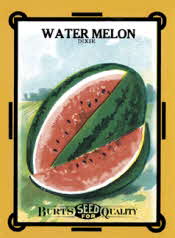 Watermelon is 92% water, and early explorers used watermelons as canteens.

Watermelon was designated as the Official Vegetable of Oklahoma in 2007. (no mistake - it is the state vegetable).

Cordele, Georgia claims to be the Watermelon Capital of the world.

The Fair Bluff Watermelon Festival was designated as the Official Southeastern N.C. Watermelon Festival of North Carolina in 1993.

The Hertford County Watermelon Festival was designated as the Official Northeastern N.C. Watermelon Festival of North Carolina in 1993.

The largest watermelon in 1990 was grown by Bill Carson of Tennessee, weighing 262 pounds.

Richard LeFevre set a world record for eating Watermelon. He ate 11½ pounds in 15 minutes. (this no longer the record).

Please feel free to link to any pages of FoodReference.com from your website.
For permission to use any of this content please E-mail: [email protected]
All contents are copyright © 1990 - 2023 James T. Ehler and www.FoodReference.com unless otherwise noted.
All rights reserved. You may copy and use portions of this website for non-commercial, personal use only.
Any other use of these materials without prior written authorization is not very nice and violates the copyright.
Please take the time to request permission.


FOOD TRIVIA and FOOD FACTS
FoodReference.com (since 1999)
FOOD TRIVIA and FOOD FACTS SECTION